Location:
UKCEH Bangor, Environment Centre Wales, Deiniol Road, Bangor, Gwynedd, LL57 2UW, Wales, UK. Location map & travel directions
Cost:
There will be bursaries for free places, travel & accommodation for people from overseas countries. We will publish details nearer the time
£49 for participants from qualifying ODA countries, including those from African countries who have not been awarded a free place. Accommodation and travel costs are not included in this price.
£599 for participants from non-ODA countries (UK & EU & other non-ODA overseas countries). Refreshments and meals (including evening meals) on days, 1, 2 and 3 are included in this price. Accommodation and travel costs are not included in this price.
Date:
Autumn/winter 2023 - In the meantime, we launched an on-demand course in September 2021: Ozone and Tropical Agriculture
Short course description:
This three-day course will train participants in recognising ozone injury on crops and raise awareness of the threat of ozone pollution on food production. Options for mitigation of impacts and further knowledge exchange with stakeholders will be explored. Further information about the course can be found below.
Course aims: 
Raise awareness of the threat of ozone pollution to food production in Sub-Saharan Africa
Improve knowledge of the identification of ozone impacts on crops, present options for mitigating impacts
Provide knowledge and tools for stakeholder engagement (e.g. crop producers, farmers, policy makers) 
Learning outcomes:
Improved awareness and knowledge on ozone impacts on crops
Quantifying ozone-induced leaf damage on crops
Using the ICP Vegetation smartphone App  to record and collate data on the occurrence of visible ozone damage in the field
Options for mitigating adverse impacts through crop management adjustments
Ozone risk assessment methodologies to identify and map areas at risk
Options for improved stakeholder engagement
Target audience: 
Crop scientists with knowledge of impacts of environmental stresses on plants and involvement in stakeholder engagement 
Level:
Intermediate - Prior experience needed:
Knowledge of impacts of environmental stresses on crop yield

Stakeholder engagement (e.g. crop producers, farmers, policy makers)
Places:
12 (we will allocate five free places to researchers from overseas developing countries)
Accommodation:
Not included in price. Please book your own accommodation (We suggest you search for "Hotel Bangor" or "B&B Bangor" or select a hotel from a list provided on registration)
You may find this guide to accommodation near our Bangor site useful.
Trainers:
Dr Felicity Hayes, Plant ecophysiologist, UKCEH, Manager of UKCEH's Air pollution and climate change research facility
Dr Katrina Sharps, GIS and statistics specialist, UKCEH
More detail and background:
Image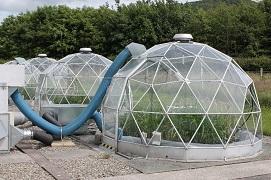 The course is funded as part of the UKCEHEH SUNRISE  project, supporting global sustainable development and contributing to several UN Sustainable Development Goals. The course is being provided by members of the Coordination Centre for the ICP Vegetation, an International Cooperative Programme studying the impacts of air pollution on crops and (semi-)natural vegetation. The programme reports to the United Nation's Convention on Long-Range Transboundary Air Pollution (CLRTAP). It involves scientists from ca. 50 countries. 
As part of our outreach activities, we aim to raise awareness and improve knowledge of the threat of ozone pollution to global food production. A list of recent scientific publications can be found here.
Outline course structure:
Day one
Introductions and background information
Ozone impacts on yield of African crops
Ozone-induced leaf injury and app
Visit to the CEH ozone exposure systems and ozone injury assessment
Analysis of ozone injury data
Day two
Ozone uptake by crops
Interactions with climate change and fertilization
Options for mitigating adverse impacts of ozone on crop yield
Experience of participants with stakeholder engagement: how to improve stakeholder participation and knowledge transfer?
Identification of barriers and ways to overcome them
Training each other
Day three
Ozone risk assessments: modelling and mapping areas at risk
Evidence of impacts of ozone in support of policy development
Identifying gaps in knowledge
Raising awareness of ozone as a threat to food production
Actions required to improve knowledge exchange and pathways to impact
Ideas for a workshop with stakeholders in Africa
Relevant links: