The feedback on the online course on 1 & 2 March 2022 was 100% positive.
Cost
Students:  £249   
Professionals:  £299
Please sign up online here for the online course on 15 & 16 March 2023
Date
Wed 15 March - Thu 16 March 2023, 9:30 -13:00
Sign up closes on 9 March 2023.
Short course description
This interactive workshop will boost your confidence and ability to write a great science paper that will be cited again and again. Here is a little taster video introducing you to the course and course leader Prof. Andrew Johnson.  All exercises will take place in small groups.
This workshop focusses on getting high citations. The workshop will study the following using group and individual exercises:
How to write a good title
How to write a good abstract
Thinking about your audience
Maintaining a narrative thread and not submerging your audience in too many messages
Finding a transparent scientific language
Marshalling your argument
Using figures
Ending in a clean conclusion
Social media and other forms of promotion
Target audience
MSc & PhD students/researchers, industry, environmental consultancies, public sector
Level
Suitable for anyone whether you have published none or one hundred papers!
Places
max 20 learners per event
Hardware and software requirements:
Please bring a laptop or tablet, so you can edit your abstract as part of the exercises.
Course leader
Prof. Andrew Johnson, UK Centre for Ecology & HydrologyAndrew has been an active researcher for the past 27 years.  As of May 2017 the Web of Science reports 113 papers with over 4,000 citations giving an H-index of 35. 10 papers have now passed over 100 citations each. In 2022, Andrew featured on the inaugural ENDS Power List of the 100 UK environmental professionals who have made the greatest impact in the past two years.
Previous course participants said
The feedback on the online course on 1 & 2 March 2022 was 100% positive.
"This was an extremely useful and engaging course, thank you."
(Sally Derrett, Sheffield University, 2 March 2022)
"Having the breakout groups was really good. It allowed everyone to be active in the course exercises. I also enjoyed the type of exercises/activities done in the breakout groups. Great way to learn."
(learner in March 2022)
"This really was an excellent course - well organised, well presented and well run. I would highly recommend it to colleagues as an extremely useful aid in writing papers, at any stage of your career."
(learner in March 2022)        
More background information
Andrew has now published a book together with John Sumpter: How to be a better Scientist.
Image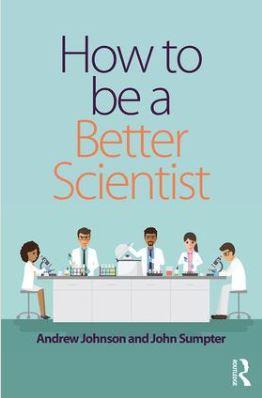 There are many ways to gauge the success and effectiveness of our scientific work.  Whilst by no means perfect, citations are probably the fairest method we have available.  Not only for us as individuals, but also for our Research Centre or University, getting our work more widely known through citations is now important and will become vital for our future.  To increase our citations we could double, treble, or quadruple the number of papers we produce each year without changing their quality.  Alternatively, we could focus on ensuring the papers we do produce become better cited. 
This workshop focus is on getting high citations, this is not necessarily the same thing as getting into top journals. Whilst this workshop is focused on finding ways for you to increase the number of citations to your own work, perhaps an alternative way to look at is to consider what increases the chances of you citing someone else's work?