Challenge
SUNRISE Theme 1 addressed the challenge of understanding and predicting hydro-climatic dynamics in areas of incomplete and spatially diverse data in order to improve water related decision-making.
Overview
"… hydro-climate services are essential because water lies at the heart of climate change adaptation. Improved water management will provide better adaptation possibilities in the food security, health, energy, disaster risk reduction and energy sectors"
Director of WMO Climate and Water Department (COP22 in Marrakesh on 9 November 2016)
In many parts of the globe decisions around water management that affect millions of people are often made on the basis of incomplete information. Hydro-meteorological data are often sparse and of poor quality and in many cases the limited data that are available are not always translated into reliable information that water managers, planners and policy makers need. Theme 1 of the SUNRISE programme focused on advancing the application of new scientific knowledge and tools in relation to:
soil moisture measurement;
drought monitoring;
flood risk assessment;
sub-seasonal to seasonal hydrological outlooks;
the modelling of water resources under future climatic and socio-economic scenarios.
The research in this Theme was conducted in collaboration with leading scientific institutions and water management bodies in China, India and sub-Saharan Africa. All activities included a focus on long-term capacity development, with UKCEH and partners co-developing and delivering new hydro-climatic services as part of the programme as well advancing the scientific knowledge and skills needed to enable future advances beyond the end of SUNRISE.
Work Packages
SUNRISE Theme 1 was lead by Prof. Harry Dixon and comprised 4 different work packages:
1.1 Delivering real-time soil moisture monitoring in developing countries (Lead: Jon Evans)
Soil moisture status is critical for farming and the production of crops, as well as for recharge of groundwater and weather prediction. SUNRISE helped establish the COSMOS‑India network which now delivers real-time soil moisture observations from permanent in situ field monitoring stations using large area (field scale average) soil moisture sensors. The network aim to help: improve soil moisture mapping of current status at district, state and national scales; provide agricultural advisory information to improve crop outcomes and income for farmers and; contribute to water resource information and outlooks for sustainable water use.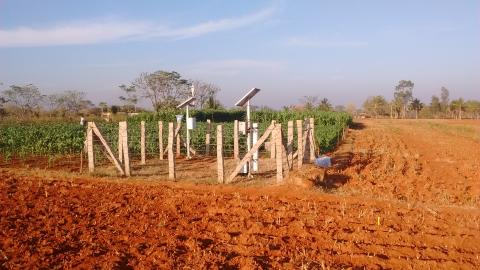 For further information on the measurement technology and soil moisture science see the COSMOS-UK website. 
1.2 Improving flood and drought risk estimation and prediction in data sparse regions (Lead: Jamie Hannaford)
Droughts and floods cause severe impacts on lives and livelihoods of people in India and China, and hinder economic development. The systems for assessing risk of hydrological extremes, and monitoring and predicting them for early warning, are fragmented. This work package helped to address this problem by working with stakeholders in both countries to embed improved methodologies for flood and drought risk estimation. 
1.3 Hydrological Outlooks (Lead: Katie Smith)
Hydrological Outlooks aimed to increase resilience to hydro-climatic risks through the production of hydrological status and outlook assessments at different scales around the world. This task supported the Pilot Phase of the WMO HydroSOS initiative, which is working with National Meteorological Hydrological Services around the world to provide a global operational system capable of assessing the current hydrological status and its likely near-future outlook. More information on HydroSOS can be found here. 
1.5 Improving integrated water resources modelling in South Asia (Lead: Helen Houghton-Carr)
This work package aimed to contribute to a reduction in per capita water stress in the Narmada basin in India by enhancing stakeholders' (water managers, policy-makers and scientists) understanding of the drivers and impacts of change influencing the water balance. The SUNRISE work with our delivery partners from the Indian National Institute of Hydrology was designed to help improve water resource management in the Narmada basin, benefiting people, agriculture, industry and the environment.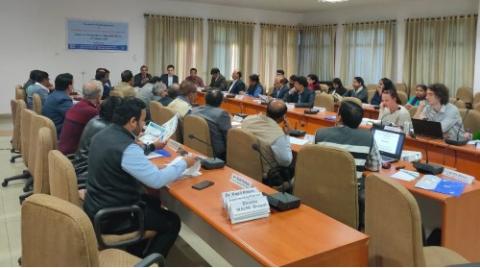 Partners
China
India
International
Impact Case Studies
Coming Soon