Bloomin' Algae is a Citizen Science app for reporting the presence of harmful algal blooms of blue-green algae. The app helps speed up public health warnings and can help teach you how to recognise the risks to you, children and animals. 
The app and how to help
Image

Image

You can download the app directly on Google Play or the App Store.
Image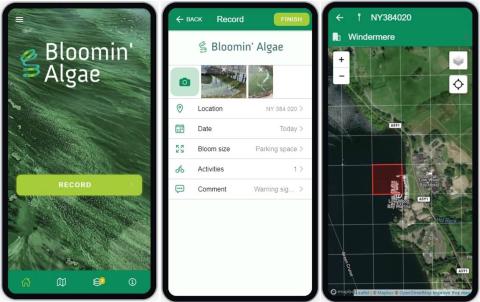 Map of submitted records 
By sending in your records of blue-green algae, you can help provide a rapid and more comprehensive picture of harmful algal blooms in your area. This will help inform the relevant environment agency, local authority or landowner of potential public health risks in your area so that, if needed, they can provide early warning to the public. As well as recording the location and date of the bloom, you need to submit a photo of the bloom to help us verify your record. Optionally, we ask you to tell us what activities take place at the lake e.g. swimming, dog walking, etc. This is to gauge the potential health risks to people or animals.
We try to provide rapid feedback on your record, within one or two days, to inform you of the health risks and to help you learn how to identify blue-green algae with more confidence.
You can view submitted records from your area in the app or on regional maps:
What are blue-green algae?
Blue-green algae naturally occur in lakes, ponds, canals, rivers and reservoirs around the world. They are actually a type of bacteria, known as cyanobacteria, which can produce toxic chemicals that are very harmful to the health of people and animals. They are particularly a health risk during warm summer months when their concentrations increase in the water to form blooms and scums on the surface. This can look like green or turquoise wispy paint, green scum or clumps of green particles. Often these surface scums accumulate along the shore where children or dogs play, or where livestock come to drink.
See the photo gallery below for examples of blooms of blue-green algae and also photos of duckweed and filamentous algae, which can be mistaken as blue-green algae, but are harmless. One method you can use to check if it is blue-green algae is to poke the scum with a stick and if it breaks into small particles, or irregular-shaped clumps, it is likely to be blue-green algae. If, however, it has tiny round leaves (about 2-4 mm) it is most likely duckweed. If the stick brings up clumps of hair-like strands or soft tubes then it is harmless filamentous algae.
What are the dangers of blue-green algae to pets, people and ecosystems?
Blue-green algae can produce potent toxins that can result in a range of health effects in people and animals. Effects on people coming into contact with toxic scums include skin rashes, eye irritations, vomiting and diarrhoea, fever and pains in muscles and joints. Blue-green algae have caused the deaths of dogs, horses, cattle, birds and fish across the UK. If you are a pet owner you can find further information from the Blue Cross.
If you, or your pet, have become unwell after contact with water that you think may be contaminated with blue-green algae, we'd strongly recommend that you seek immediate medical or veterinary advice.
Download our information poster on blue-green algae for landowners, land managers or local authorities to use. This poster gives advice on what blue-green algae look like, health risks, how to stay safe and where to go for more help and advice.
Getting notifications of blooms in your area
When you send in your first record you will be asked to register an account with iRecord. This allows us to send you feedback on your records. With an iRecord account you can set up an alert to receive email notifications of bloom records in your area. You can do this by going to iRecord's Species alert notifications and typing  "Cyanobacteria" as an "Alert species". Do not change the option "<Select a species list>". You can then select your location: either a whole country, or the parish county you wish to receive notifications from. You can choose to receive an alert for all records from your area, or just records verified as correct. You will now receive an email about any submitted records in your selected location. If you want to receive records from more than one parish county, you need to repeat this notification process for each area of interest as only one area can be selected each time.
Partners involved in the app
The re-design of the app was funded by RESAS, Scottish Government. The design was reviewed by representatives from the UK and Irish environment agencies and by Health Protection Scotland. A Dutch language version has also been developed for use in Belgium and the Netherlands.
Further action and reporting harmful algal blooms
The responsibility to manage algal blooms lies with the owner of the water concerned. However, for enquiries relating to blue-green algae (cyanobacteria), please contact your local authority (e.g. environmental health department in UK). Your local authority will assess any action required against the relevant guidance and may contact the relevant environment protection agency  for further water tests. You may also directly report incidents of algal blooms or water pollution incidents to your environment regulatory authority.
Official bodies:
Further guidance