Each spring and summer we stream a live camera feed from a nestbox used by kestrels at our Wallingford, Oxfordshire site. It's hugely popular with viewers on YouTube but also offers a valuable insight into the seasonal activity and feeding habits of these birds of prey. If you've wondered what happens to the footage, every year some of our work experience students have the enviable job of watching hundreds of hours of it!
Alison Rigg, who is studying Environmental Sciences at the Open University, tells us what she learned from footage recorded in June 2018…
My first glimpse inside the nest box is from footage recorded after midnight, on 12th June 2018. I can see the female kestrel, sat on the nest, asleep. The female is identified by the striped markings on her head and tail. I later understand that of the two adult kestrels, she is the one spending the majority of time in the nest box.
Image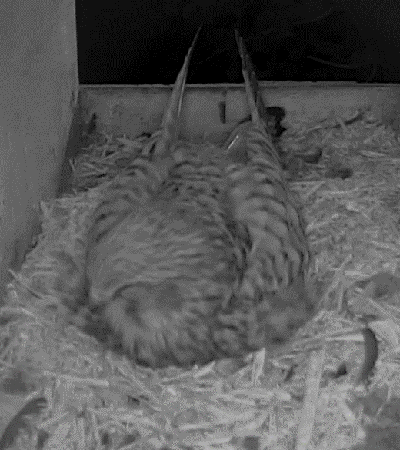 Image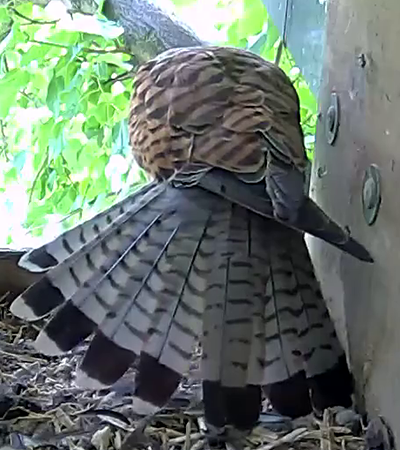 The first two new members of the family hatch on 12th June, followed by a third chick on 14th June. The chicks look sticky when they first emerge from their eggs, but soon become fuzzy and white.
It is the female who feeds the chicks. She relies on the male to bring food which she tears into pieces and puts in the mouths of the chicks. Although the male kestrel spends little time on camera, his job is vital and he works hard. Breakfast can be delivered from 5:00am and I observed him provide up to nine pieces of prey in one day.
"...I observed him provide up to nine pieces of prey in one day."
He catches delicious morsels such as rodents, other birds and a worm. These are usually passed to the female when he arrives, but if she is not there he leaves the dead prey next to the chicks. 
I am curious as to what he eats and where he sleeps – he never stays in the nest box at night and he doesn't share meals with the others.
The chicks are cute and funny with relatively large round heads and long necks attached to round fluffy bodies. After three chicks have hatched, the female feeds them a minimum of once every three hours during the day, frequently once every hour – I count 81 separate feeds during the week!
The chicks grow rapidly and by the end of the week the female often chooses to sit next to, rather than on, the chicks. One egg remains in the nest and doesn't hatch (I learn that kestrel chicks should usually hatch within two-three days of each other).
The female begins to spend increasingly longer periods of time away from the nest, up to one hour – compared with only five minutes when the chicks were first born. This provides me with an essential opportunity to observe three little chicks cuddling together in a nest...
Image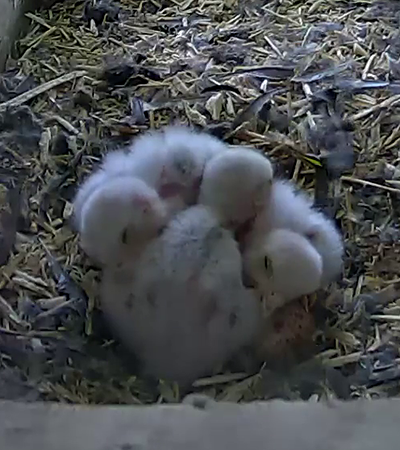 Image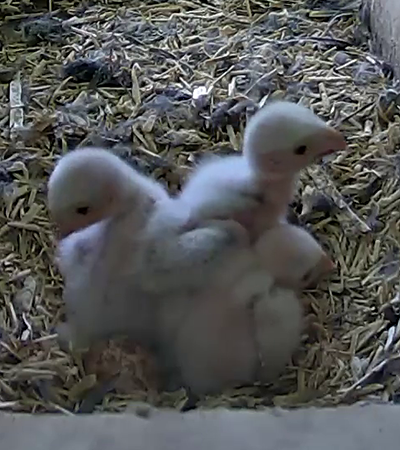 Although it felt like I had a unique view into one week of kestrel family life, these videos are actually broadcast live on CEH's YouTube channel and website and have been viewed by thousands of people from around the world! After spending this time so immersed in seven days of the kestrels' lives, I did start to question, where did I really spend my work experience week?!
I was saddened to hear that kestrel numbers have declined in the UK since the 1970s. CEH has been monitoring kestrels via its nest box and camera since 2015, to gain invaluable insight into how they behave when raising their young. Many of the chicks born here have also been ringed, providing information about survival and dispersal if birds are seen again. Setting up and maintaining the nestbox and cameras each year is a team effort led by Björn Beckmann and Tom Humphrey.
Additionally, Professor Richard Shore leads a long-term national monitoring programme with researchers from CEH to investigate contaminant levels of predatory birds across Britain. It is thought that these top predators are vulnerable to poisoning through contamination of their prey — there is more information available on the PBMS website.
Having finished my work experience, I can't help but wonder where last year's chicks are now…
Alison Rigg
Related links
See a short round-up of breeding activity from the nestbox from 2015-2019.
You can also follow updates during the breeding season from @CEHBirdCam on Twitter.