Land Cover Map 2007 (LCM2007), which was released in July 2011, is our third land cover map in the series (LCM1990, LCM2000, LCM2007 and LCM2015). It is derived from satellite images and digital cartography and gives land cover information for the entire UK. Land cover is based on UK Biodiversity Action Plan Broad Habitats.

Mapping techniques and improved spatial accuracy
LCM2007 builds upon the successes of the parcel-based mapping of LCM2000 and employs similar but enhanced classification techniques. The principal difference between LCM2007 and LCM2000 is the source of land cover parcels. LCM2007 parcels come from generalised digital cartography refined with image segments, whereas LCM2000 uses only image segments.
Deriving objects from digital cartography is advantageous. Cartographic boundaries accurately delineate real-world land cover objects (e.g. lakes, fields, settlements, industrial areas, semi-natural areas). This improves the spatial accuracy of LCM2007 over LCM2000. The accurate delineation of real-world objects also helps to clarify the spectral properties of the land surface and therefore also improves thematic accuracy.
Please see the LCM2015 webpage and dataset documentation for the differences between LCM2007 and LCM2015.
Main users
Our land cover maps are successfully used by government departments and agencies throughout the UK, county councils, charities and commissions and also environmental management bodies. LCM2007 has wide application to many sectors:
Atmosphere and climate
Water and catchments
Ecosystem service assessment
Marine and coastal
Ecology and conservation
Impact assessment
Health and hazards

Agriculture
Landscape planning
Telecommunications
Urban studies
Statistics, information
Education and publicity
Carbon accounting
​Case studies
Land Cover Map 2007: Technical details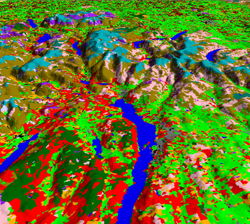 Land Cover Map 2007 is available in different formats to suit the requirements of various users.
Vector data
The most detailed product is vector data, where each polygon represents a parcel of land and has attributes describing land cover and metadata describing how this information was derived (see Table 1).
Scale: Minimum Mappable Unit for land cover parcels: 0.5ha.
Supply Format: ESRI® Shapefile format for small areas of data; Geodatabase format for the whole of Great Britain.
Coverage: UK
Raster data
Five raster products simplify this information. A 25x25m raster gives the most likely Broad Habitat for each pixel. Four freely available 1x1km raster products summarise the 25x25m raster. Metadata for the LCM2007 raster formats are available in Table 3 and Table 4.
Scale: 25m and 1km pixel size
Supply Format: GeoTiff
Coverage: UK
Table 1. Description of the attributes of the LCM2007 vector dataset
Table 2. Habitats, LCM2007 classes and Broad Habitat sub-classes for LCM2007
Table 3. Metadata information for the LCM2007 25m raster dataset
Table 4. Metadata information for the LCM2007 1km raster dataset
Obtaining LCM2007
Further information

Contact datalicensing@ceh.ac.uk for further information on Land Cover Map. You can also view the LCM2007 launch webinar below.