An innovative monitoring scheme could provide a better understanding of the factors that impact on the size and health of honeybee populations, and on honey yields.
As part of its new National Honey Monitoring Scheme, the Centre for Ecology & Hydrology (CEH) is asking amateur and professional beekeepers to send in honey samples on a regular basis for comprehensive analysis using advanced techniques, including DNA barcoding and mass spectrometry.
Using these techniques, CEH scientists will identify the types of pollen and pesticide residues present in the honey samples, as well as some of the diseases that bees are exposed to.
Beekeepers in the UK have seen several poor seasons in a row for honey production. Weather is a decisive factor in honey production but urban development, agricultural impacts including the widespread loss of wild flowers and pesticide use, plus climate change and an increase in disease are believed to impact negatively on both wild and managed bees and their productivity.
Image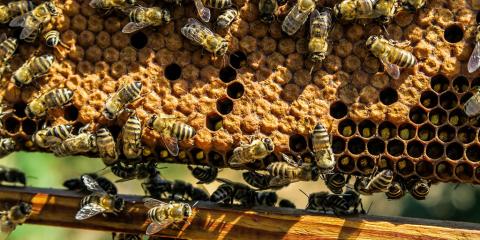 A decline in bee numbers or the health of honeybee colonies could potentially have negative economic and agricultural impacts. Bees play an important role in the UK economy and make a crucial contribution to the agricultural industry by pollinating crops.
The contribution of insect pollinators, including honeybees, to UK crop production has been valued at about £600 million a year.
A warning of the possible consequences can be seen in parts of China, particularly the apple and pear orchards in Szechuan, where a massive decline in bee populations means workers have to carry out the laborious process of pollination by hand, carefully transferring pollen from male to female flowers to fertilise them.
Previous research by the Centre for Ecology & Hydrology has already shown that in certain circumstances exposure to neonicotinoid pesticides can have negative effects on honeybees and wild bees, while a pilot project revealed sub-lethal neonicotinoid residues were present in one in five honey samples tested, even after a partial EU ban on their use.
Professor Richard Pywell, from the Centre for Ecology & Hydrology, who is leading the National Honey Monitoring Scheme, said: "The vulnerability of honeybees to the way we manage land in the UK has long been a cause for concern, but it is this sensitivity that makes them potentially really important for monitoring long-term changes to the condition and health of the countryside.
"We want to work with UK beekeepers to understand where in the countryside bees have lots of crop and wildflowers to feed upon, and where they are forced to feed on only a few plant species. Similarly, we want to know what pesticides they are exposed to and where this is occurring.
"This information will help us understand some of the factors affecting the size and health of honeybee populations, and ultimately honey yields. It will also inform the way we might manage the countryside in future to support honeybees and wild pollinators, for example which wildflowers and crops we might plant to augment bee diets."
"The scheme will inform the way we might manage the countryside in future to support honeybees and wild pollinators" - Professor Richard Pywell
The average yield per hive in the UK has been about 11kg in recent years, compared to the 22-45kg that some long-time beekeepers said was typical in the 1950s. According to European Commission figures, the UK produced 6,400 tonnes of honey in 2011 but just 2,800 tonnes in 2015.
UK consumers' taste for honey is rising – it now outsells jam in supermarkets – but domestic produce only accounts for 14 per cent of the UK market for honey products, meaning there is a large reliance on foreign imports.
Ged Marshall, chair of the Bee Farmers' Association of the UK, which represents commercial beekeepers, said due to careful management of hives, average yield for his group's members has been about 20kg per hive, much higher than the national average.
However, he said there were still concerns about the long-term productivity and the availability of flowers for bees to feed on.
Mr Marshall said: "We have had several poor seasons for honey yield in a row.
"The availability, quality and variety of food for bees is one of our concerns and the Centre for Ecology & Hydrology's National Honey Monitoring Scheme will hopefully show where honey is coming from and if Defra's countryside stewardship schemes improve the situation over the coming years.
"The Bee Farmers' Association is pleased to support this project which will show the wide variety of natural floral sources that go to make up the great range of high-quality honey that is produced across Great Britain."
CEH scientists want to create an archive containing hundreds of samples of from every region and type of habitat and landscape in the country.
There are almost 38,000 beekeepers (and about 220,000 hives) in the UK. The Centre for Ecology & Hydrology is looking initially for about 600 beekeepers to sign up to the Honey Monitoring Scheme in the first year, with more in future years.
Pam Hunter, manager of research at the British Beekeepers Association (BBKA), which is also backing the scheme, said: "The National Honey Monitoring Scheme is a valuable contribution to assessing changes in the crops in the countryside.
"This study will enable CEH to assess the levels of pesticides present in honey from diverse areas. The more beekeepers who take part, the more valuable their results will be."
For details about the National Honey Monitoring Scheme and to sign up to provide samples, see https://honey-monitoring.ac.uk
Additional information
While the recent exceptional weather means beekeepers are reporting larger yields at the moment, they experienced higher-than-normal reductions in bee numbers over the winter.
 
Beekeepers are asked to send in samples twice a year. Details about the National Honey Monitoring Scheme, including FAQs and a video on how to collect honey samples is available at https://honey-monitoring.ac.uk
 
A Centre for Ecology & Hydrology study of 130 honey samples provided by beekeepers across Britain during 2014 and 2015 found that one in five of the samples contained neonicotinoid pesticide residues following the introduction of the EU-wide ban on their use on seed dressings on flowering crops – suggesting these pesticides remained prevalent in the farming environment.
 
In June 2017, the Centre for Ecology & Hydrology produced an influential report that showed neonicotinoid pesticides harmed honeybees and wild bees, after carrying out the first pan-European field study of its kind. This was part of the growing scientific evidence that led a majority of ministers from EU countries, including Environment Secretary Michael Gove, to extend the restrictions and implement a near-total ban on neonicotinoids in April.
 
The Honey Monitoring Scheme is funded by the Natural Environment Research Council (NERC) contribution to the research programme ASSIST (Achieving Sustainable Agricultural Systems)
References/further reading
European Commission Civil Dialogue Group Honey Market Presentation, May 2017
News item on British Beekeepers Association survey 2017 - 'Depressingly small honey crop from British beekeepers'
Bee Farmers' Association of the UK website http://beefarmers.co.uk/
Briefing for House of Commons debate on pollinators, November 2017