Scientific challenge:
Coastal wetlands have been subject to alteration through land claim, management and flood defence for centuries. Rising sea levels and the increase in the frequency of storm events have added to the cost of improvement and maintenance of flood embankments which have led policy makers to look for alternative ways of managing the coast line.
Project overview:
Salt marsh restoration
CEH research focuses on the ecological requirements to guide successful restoration in saltmarsh and sand dunes. Managed realignment, where coastal defences are breached to allow tidal flooding of agricultural land, has been increasingly used as a sustainable and cost effective way to respond to changing environmental conditions. This has the dual benefit of reducing flood defence maintenance costs and creating intertidal habitats.
Our research is focused on restoring salt marshes and mudflats and understanding how plant and animal communities colonise land that was formerly used for agriculture. We work on a broad range of topics including seed dispersal and plant colonisation, invertebrate ecology and bird usage and behaviour.
Our research also investigates how restored salt marshes function in contrast to natural ecosystems. Marine sediments are a rich source and sink of organic carbon, and our work on climate mitigation looks at the carbon storage potential of restoration sites and the greenhouse gasses they emit.
Sand Dunes - working with natural processes
Working with natural processes means re-instating natural dune dynamics, allowing the dunes to adapt automatically to changes in rainfall or climate. Heavy machinery is needed initially to kick-start this process.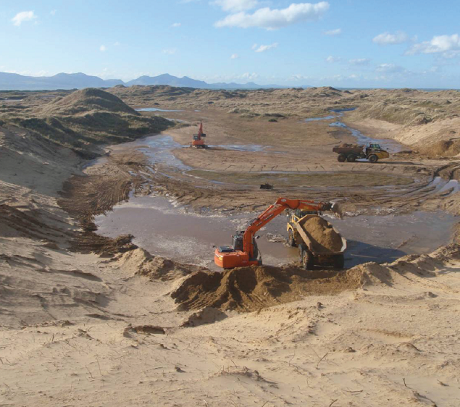 Photo: Kick-starting natural dune dynamics in dune slacks at Newborough Warren, March 2013
Innovative restoration work at Newborough Warren aims to strip surface vegetation from selected dune slacks and their surrounding dunes, allowing the wind to scour the sand, creating new dune slacks to form at the level of the water-table, and new dunes downwind. This benefits early-successional species which like bare sand, and which have declined elsewhere in the UK.
Three separate replicate slacks have been restored using the same methodology, and CEH is monitoring water tables, soils and vegetation colonisation to understand which factors govern restoration success.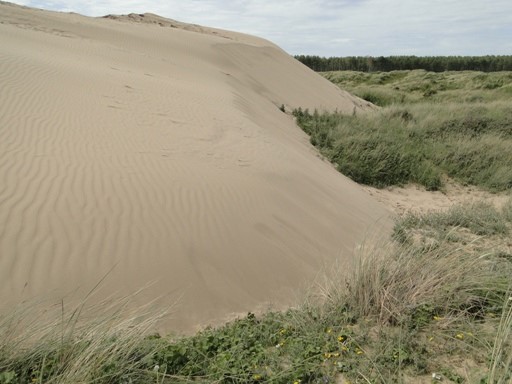 Photo: New life in the dunes – moving sand at Newborough Warren
Topsoil inversion of eutrophic dune grassland
CEH monitored the first UK trial of topsoil inversion (also called deep-ploughing) in UK sand dunes, where nutrient rich topsoil was buried under 70 cm of mineral sand.
Early results suggested the topsoil inversion was successful, but later wind-scour exposed the underlying nutrient rich material, and weedy species became dominant. However, the longer-term monitoring suggests that in sand dunes it is better to remove eutrophic surface soils than to bury them.
Photo right: Topsoil inversion, burying nutrient-rich surface soils under 70 cm of bare sand at Talacre Warren