The UK Centre for Ecology & Hydrology (UKCEH) has launched a new five-year research and innovation strategy, outlining its role in tackling the unprecedented global environmental challenges.
This is the organisation's first strategy as an independent not-for-profit research institute. Published today, on the 50th anniversary of Earth Day, it sets the future direction for UKCEH, detailing its commitments to creating and enhancing sustainable ecosystems, reducing and preventing pollution, and mitigating and building resilience to climate and environmental change.
Specifically, UKCEH will make a substantial contribution through focusing on research and innovation which tackles ten integrated issues:
Biodiversity
Chemical risks
Clean air
Climate and land
Ecosystem restoration and resilience
Flood and drought impacts
Net-zero greenhouse gas emissions
Soil health
Sustainable agriculture
Water quality and resources
The strategy explains how UKCEH's world-leading long-term and large-scale monitoring, experimentation and modelling will help to provide the data and insights to inform decision-making by governments, NGOs, businesses and citizens, helping to halt and reverse environmental decline, both nationally and internationally.
It recognises that scientists, in order to deal with the complexity of these challenges, must work across disciplines, sectors and borders. UKCEH, as the leading UK centre for excellent environmental science across water, land and air, is ideally placed to support this approach due to the breadth and quality of its staff, research and facilities, plus its extensive network of partners around the world.
The strategy outlines UKCEH's 'whole systems' approach to research; monitoring and modelling different aspects of the environment in an integrated way at a range of geographical scales, from landscape to global. It sets out the organisation's commitment to investing in and developing its capabilities both during and beyond this strategic period.
It is time for action, and UKCEH is ideally placed to provide the robust scientific evidence needed to inform better, more sustainable management of our precious natural resources - Lord Cameron
Professor Mark Bailey, Executive Director of UKCEH, says: "Over the last decade, the impact of climate change globally has become ever more evident, with forest fires, heatwaves, floods and droughts devastating livelihoods and displacing communities. The scale of these challenges means the demand for the informed, excellent and relevant environmental science that UKCEH provides is greater than ever.
"The new strategy document clearly sets out to everyone – the research community, governments, NGOs, businesses and citizens, both in the UK and internationally – the substantial role that we play, and will continue to play, in finding solutions for complex environmental problems and opportunities."
Lord Cameron of Dillington, Chair of the Board of Trustees at UKCEH, adds: "The impacts of climate change, and a rapidly rising world population that is expected to reach nine billion by 2050, are putting increasing pressure on our natural world.
"It is time for action, and UKCEH is ideally placed to provide the robust scientific evidence needed to inform better, more sustainable management of our precious natural resources, which are so important to the long-term social and economic future of the human race."
To download Strategy 2025: Research and Innovation, see https://www.ceh.ac.uk/science-strategy

Further information
UKCEH's role as a strategic delivery partner for the Natural Environment Research Council (NERC), part of UK Research and Innovation (UKRI) means the core work in the ten key areas highlighted will continue to receive National Capability (NC) funding. The institute's NC programmes are not only meeting the UK's strategic environmental research needs but also increasing resilience to the impacts of climate change globally, including among communities in parts of Asia and sub-Saharan Africa.
An increasing proportion of UKCEH research is also being funded through competitively won contracts in the public and private sectors in the UK and abroad. As a result of recently becoming an independent research institute, the organisation now has more freedom and flexibility to work with a wide range of external partners and funders. More than a third of UKCEH'S research projects are delivered with international partners, and this is expected to increase in the coming years.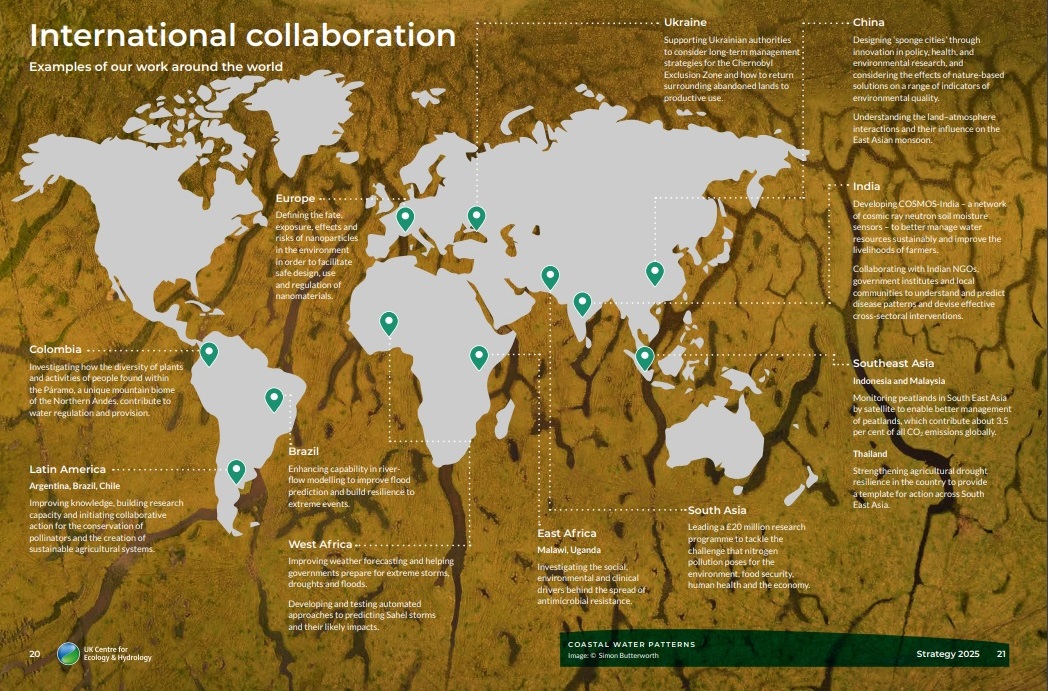 A map in the new strategy document shows the extent of UKCEH's international collaborations