December was a mixed month and was subject to a range of weather types, in contrast to the predominantly westerly conditions that prevailed for much of 2017. Generally, it was relatively dry across northern Britain and wetter in the south, which has slightly moderated long-term rainfall deficiencies in the English Lowlands. Correspondingly, Soil Moisture Deficits diminished, modest groundwater recharge was observed in the majority of boreholes and river flows returned to the normal range in many responsive catchments. While the rainfall was welcome from a water resources perspective, groundwater levels remained notably low in parts of the Chalk and flows were below normal in some groundwater-dominated rivers of southern England.
The assessment is contained in the latest monthly hydrological summary for the UK, an authoritative analysis of the country's water resources status. The monthly summaries are produced by the National Hydrological Monitoring Programme, operated by the Centre for Ecology & Hydrology in conjunction with the British Geological Survey.
While reservoir stocks increased in the south, end-of-December stocks remained below average in some impoundments, eg. the London group, Wimbleball and Bewl, the latter being 26% below average at month-end (leading to a drought permit application in early January).
Summary author Jamie Hannaford of the Centre for Ecology & Hydrology said, "At least average rainfall is needed through the remaining winter or early spring months in order to reduce the risk of water resources pressure in parts of south-east England later in 2018."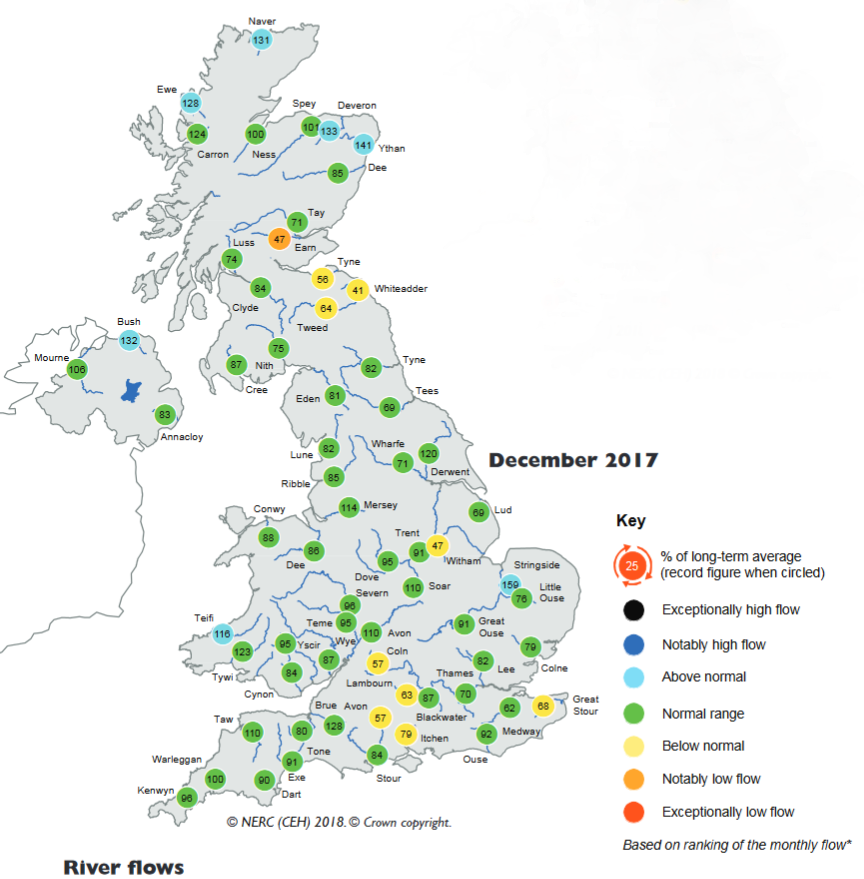 Read the full December 2017 UK Hydrological Summary here.
The monthly summary is a look back at hydrological events occurring in December 2017. Latest information on flood warnings is provided by the Environment Agency, Natural Resources Wales and Scottish Environment Protection Agency (flood warnings for Northern Ireland are not available).
The Centre for Ecology & Hydrology jointly operates the National Hydrological Monitoring Programme (for the UK) in conjunction with the British Geological Survey. NHMP scientists produce the UK Monthly Hydrological Summary which assesses rainfall, river flows, groundwater and reservoir levels. They also operate the UK's National River Flow Archive.
The NHMP also has a remit to analyse major flood and drought events in the UK and analyse long-term trends in UK hydrological data. The UK Monthly Hydrological Summary is normally published on, or before, the tenth working day, of the following month. A Hydrological Outlook for the UK is also available, and is updated monthly. The latest Outlook can be viewed here.
Additional information
December 2017 UK Hydrological Summary