A new £5million research project announced today will enhance the UK's surveillance and response to Xylella fastidiosa, a plant disease which has devastated olive trees in parts of Italy and which can also infect other commercially important plants. BRIGIT is a collaborative project comprising 12 research organisations. Dr Steven White from the Centre for Ecology & Hydrology will lead the modelling work which aims to better understand the potential spread of the disease in the UK and help to inform surveillance and control strategies.
Steven tells us more about Xylella fastidiosa and its impacts...
A devastating bacterium is decimating olive trees in Puglia, southern Italy. Xylella fastidiosa was once restricted to the Americas where there are major outbreaks infecting a wide range of commercially important host plants, including grape vines, citrus trees and coffee plants. However in 2013, this plant disease was discovered in olive trees near the southern tip of the heel of Italy.
Since then, it has expanded northward at a rate of approximately 20km per year, despite efforts to stop its spread.
The disease is carried (vectored) by xylem feeding insects and the main culprit has been found to be the spittlebug, Philaenus spumarius. These vectors bite and feed on a wide range of plants, but when they feed on infected plants they draw up the bacterium in the process and, as they move from tree to tree feeding, they infect other host plants.
Once a host plant is infected, the bacterium reproduces in the plant's xylem vessels (part of the plant's nutrient transport system) forming what's known as a biofilm which clogs up the xylem. As the disease progresses the plant is starved of nutrients, the leaves begin to die back and the plant eventually dies.
To date, millions of olive trees have been lost to the disease.
Image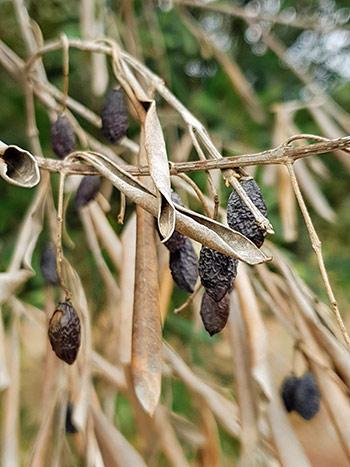 Photo: An olive tree infected with Xylella fastidiosa showing symptoms of dieback. Photo by Dr Steven White
Since the discovery of Xylella fastidiosa in Italy, other strains of the disease have been discovered around southern Europe, where it is spreading. In the province of Alicante, Spain, the disease is infecting almond trees, which is having a severe economic impact on the farming community.
What can be done to stop the disease?
Currently, there is no known proven cure and the only options are to manage the vector population, remove infected plants and stop transporting plants in infected regions. There are a number of large European research projects focused on tackling the disease, such as POnTE, XF-ACTORS and CURE-XF.
What are the implications for the UK? To date, Xylella fastidiosa has not been discovered in the UK. However, the UK government and scientists are extremely worried about the possibility of the disease invading our shores. A suspected infected plant discovered in Belgium in 2018 has reiterated the need for biosecurity vigilance.
The "Don't Risk It" 2018 campaign by the Department for Environment, Food & Rural Affairs (Defra), as part of their Tree Health Resilience Strategy, targeted returning UK tourists asking them not to bring home plants from holidays abroad. Defra also announced that from 26th November 2018, olive tree imports will be subjected to much stricter rules, whereby it is a legal requirement to notify APHA (Animal and Plant Health Agency) in advance of importing certain plants from the EU. 
However, more needs to be done to prepare for the likely eventuality that Xylella fastidiosa could turn up in the UK.
The new UK-focused BRIGIT project, led overall by Prof Saskia Hogenhout of the John Innes Centre, will help that preparedness.
BRIGIT has three main objectives:
Enhancing diagnostic capabilities,
Investigating insect vector biology,
Xylella fastidiosa epidemiology modelling.
The project will help us to take stock of what differences there are in terms of the underlying epidemiology for a potential outbreak in the UK, compared to other parts of Europe and further afield. The research that BRIGIT generates will help us to better inform policy should the worst happen.
Dr Steven White is a theoretical ecologist specialising in vector-borne diseases and invasive species. His current research aims include predicting Xylella fastidiosa spread and control, understanding disease vector dynamics under climate change, and modelling species invasions over complex landscapes. His work on Xylella fastidiosa is funded by the research projects BRIGIT, XF-ACTORS and CURE-XF, and he is a member of the European Food Safety Authority Plant Health Panel working group on Xylella fastidiosa.
Related links
UK-wide consortium to combat serious threat to plant health - John Innes Centre