"The Ecosystem Approach is much more than accepting ecosystems as the core of environmental management. It recognises that people and society are integral components of ecosystems and their management and conservation. This necessitates a way of working and decision-making that cuts across traditional policy and institutional boundaries. It brings consideration of natural, economic and social sciences into a single methodological framework." UK National Ecosystem Assessment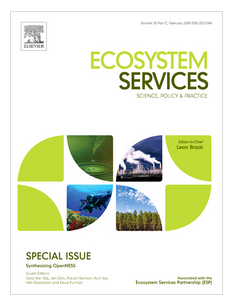 A new special issue of Ecosystem Services journal brings together a number of studies focusing on outputs from the EU-funded OpenNESS project, a four-year (2013-2017) collaborative effort to translate the concepts of ecosystem services and natural capital into frameworks that could have applications in the real world.
The concept of ecosystem services is now widely used in scientific literature, and increasingly also in policy and practice (as well as the UK National Ecosystem Assessment see for example Defra's recently published 25 Year Environment Plan). The ideas are seen as relevant in policies for biodiversity, sustainable land and water use, climate change mitigation, human health, and sustainable economic development among others.
However operationalising the concept, ie putting it into practice, is still a challenge. OpenNESS (Operationalisation of Ecosystem Services and Natural Capital) was created in response to this challenge to critically evaluate the concept when applied to actual problems at different scales and in different policy sectors. CEH was a partner in the consortium which consisted of research institutes from 22 European and 4 non-European countries, as well as 10 SMES.
Our transdisciplinary science, data and stakeholder connections particularly from long-term monitoring in the Cairngorms and Loch Leven made a valuable contribution to case studies and outputs of the project. Our researchers also worked both on the conceptual thinking and practical operationalisation of the ecosystem services approach.
This is reflected in the papers produced for the special issue. Of 14 papers, CEH staff are first-authors on five of the studies and co-authors on 13. Collectively the papers cover conceptual, methodological and policy challenges and test the operationalisation challenges:
All the papers are part of Ecosystem Services Special Issue Vol 29, Part C (Synthesizing OpenNESS). An editorial featuring Jan Dick and Paula Harrison is also included.
Additional information
OpenNESS project (Operationalisation of Ecosystem Services and Natural Capital)
Staff page of Jan Dick, Centre for Ecology & Hydrology
Staff page of Paula Harrison, Centre for Ecology & Hydrology