In this update from the CEH Lake Ecosystems Group, I'm taking a look back at some of our achievements during 2018...
Over the course of the year, the Group has continued to work on issues that are relevant to the ecological community, those charged with ecosystem management, and wider society, such as drinking water quality, potentially harmful algal blooms (HABs), catchment land management, impacts of weather and climate upon lake ecosystems, and the value of freshwater ecosystems and species to society. It has definitely been a busy year!
Research outputs
At the time of writing, the Group has produced more than 20 scientific publications during the course of the year. We published on an impressive range of topics, including water quality modelling, detection and attribution of long-term change in lake ecosystems, the physiology of aquatic plants, the dynamics of algal and cyanobacteria (blue-green algae) blooms, the effects of animal plankton on mixing processes in lakes, and changes in fish communities over the long term. Our work in these areas continues to increase understanding of how lake ecosystems work, and how they respond to environmental pressures; results that will ultimately be useful in underpinning evidence-based ecosystem management in a rapidly-changing world. 
"Our work continues to increase understanding of how lake ecosystems work, and how they respond to environmental pressures..."
We have also, perhaps surprisingly, published on honeybee food stores, thanks to the transferrable molecular expertise of Glenn Rhodes. This study increased the knowledge of how land use practices affect the microbial communities associated with important pollinators.   
It would be impossible to give a detailed account of all of our work here, so I've selected two highlights:
The first study, published in Global Change Biology (Impact Factor=9), combines our lake monitoring data with other records from across Europe to examine how blooms of blue-green algae respond to interacting environmental pressures such as increasing water temperatures and nutrient enrichment.
It showed a highly nuanced story, where blue-green algae show different sensitivity to environmental pressures in different lake types, indicating that a "one-size-fits-all" approach to lake water quality management is unlikely to be effective. These results not only increase our understanding of how lake ecosystems respond to interacting environmental pressures, but also suggest that a knowledge of the typical "behaviour" of different lake types is essential to efforts to manage their water quality and ecological state for societal benefit.
The second highlighted story, published in Limnology and Oceanography (Impact Factor=3.6), used high-frequency data collected from a network of lakes across the world (including one of "our" sites), to show that the variability in algal biomass (a proxy for variability in water quality) is itself dependent upon the nutrient status of the lake and the extent to which wind speed varies over the lake surface.
These results show us that nutrient inputs into lakes and climatic conditions will affect not just average water quality conditions, but also how variable these conditions are over time. This knowledge has great societal relevance when we consider the many ways in which lakes can be used by human populations, for example provision of drinking water and recreational opportunities.   
When considered together, a number of key messages can be derived from these studies. Firstly, this work demonstrates the immense value of both traditional and high-frequency monitoring data in generating new understanding of how lakes function, and how they respond to interacting agents of environmental change.
Secondly, the identified drivers of water quality change in these studies (nutrient enrichment, climate variability) are globally relevant, and so our lake research, when integrated with the outputs of other monitoring programmes globally, can contribute to advances in our understanding of large-scale processes.
"...the identified drivers of water quality change in these studies (nutrient enrichment, climate variability) are globally relevant..."
Thirdly, drivers of lake water quality change are also tightly linked to features of the surrounding landscape, such as land-use and topography, meaning that a large-scale approach is often needed to address these issues.
If you want to read more about these studies, or any of our 2018 outputs, they can be found in this thread of Twitter:
https://t.co/Jixz8XNetu pic.twitter.com/MqlvNtB2G6

— CEH Lake Ecosystems Group (@CEHLakeEcoGrp) December 17, 2018
Public Engagement
There are many publics and many forms of engagement, but during 2018 the Group has reached out to the wider community using a variety of means.
As well as providing regular updates on our work via social media, we hosted another successful Cumbrian Lakes Research Forum in October. This event was attended by a range of stakeholders including United Utilities, Natural England, Lake District National Park Authority, Rivers Trusts, Environment Agency.
Great updates from today's Cumbrian Lakes Research Forum, with speakers from @CEHScienceNews @nationaltrust @NaturalEngland @LancasterUni

 https://t.co/HMrk2huv75#CumbLakeRF #CEHLakes @DrEllie_Mackay

— CEH Science News (@CEHScienceNews) October 9, 2018
As always, this was a very positive meeting, promoting open and lively discussion of new research results and, importantly, priority issues for ecosystem management in the region, and news of current initiatives aimed at improving the ecological state of Cumbrian freshwaters. This forum is an important networking opportunity, and a mechanism via which we can engage multiple stakeholders with our science and develop ideas for future areas of work. The day was very ably organised by our own Dr Ellie Mackay.
This year we also produced educational posters for a National Trust nature reserve, and participated in an interactive science trail on the shores of Windermere.
Image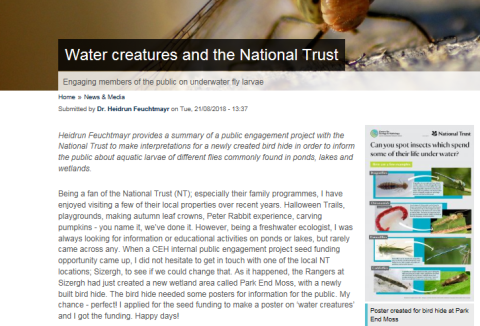 Taken together, these activities have provided excellent opportunities to discuss our science with local communities, school children, wildlife enthusiasts, researchers, and representatives of both private and public sector organisations, encouraging dialogue and raising awareness of our research.
#CEHLakes student news
Our PhD students have successfully completed a field season, collecting data on the physical, chemical and biological characteristics of their study sites, as part of their research projects. These data are already starting to look interesting and we're looking forward to seeing how the research progresses.
Looks like a well mixed lake to me pic.twitter.com/9axdZPEoO0

— Freya Olsson (@FreyaOlsson) November 1, 2018
One highlight was the participation of Emma Gray in the first ever Twitter Conference on cyanobacteria (search for #cyanoTC2018). Check out Emma's timeline to see her presentation. You can follow the progress of many of our students by following them on Twitter: Giles Exley (@gilese68), Emma Gray (@egray29), Jess Richardson (@jessyrichardson), Liz Davidson (@libbydavidson23), and Freya Olsson (@FreyaOlsson).
Final words
It is my hope that these updates will not only raise awareness of our work with multiple stakeholders, but will also show areas of activity within which we are keen to collaborate on future research projects. I'd be very keen to hear if this update, and those that will follow, suggest areas in which the Lake Ecosystem Group could work with you in future.
During 2018, we have been increasingly mindful of the benefits of public engagement, to enhance the impact of our science. Moving forward, I'm sure we will be thinking of more diverse and creative ways of reaching out with our work.
It has been a very productive year for the group, and I'm proud of the whole team for their achievements. Their hard work and commitment during the year is very much appreciated – thank you one and all, and Happy Christmas!