Stefan Reis, Science Area Head for Atmospheric Chemistry and Effects at CEH, was among the team bringing our science to Dynamic Earth this month...
CEH scientists recently teamed up with colleagues from the Asthma UK Centre for Applied Research (AUKCAR) to provide an opportunity for the general public to learn more about air pollution and what it means for our health. During 18th-19th October 2018, Dynamic Earth in Edinburgh hosted a showcase on "Air Pollution & You".
As part of NERC's Operation Earth, CEH scientists gave an insight into what is in the air today - children in particular enjoyed donning a lab coat and capturing air pollutants hands-on. Grown-ups were interested to know more about current air quality and how they could respond to air pollution events, or to understand the main sources of air pollution.
Image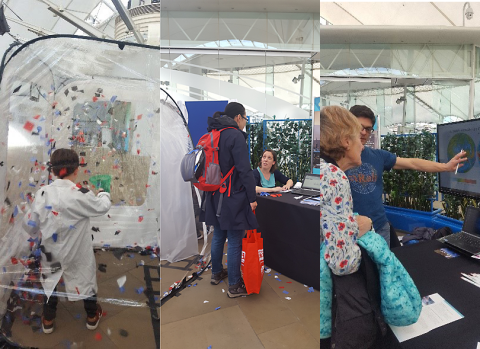 The two days followed a successful engagement during the NERC UnEarthed event organised at Dynamic Earth in November last year and brought more than 1,100 visitors to the stand.
It was a great opportunity to inspire a new generation of scientists and, at times, kids were forming an orderly queue for an opportunity to catch harmful particles in the air pollution tent.
The CEH Team: Dr Marsailidh Twigg, Dr Massimo Vieno, Claudia Steadman, Vera He, Ed Carnell and Dr Stefan Reis.
Thanks to everyone who visited and made the event a success.