Image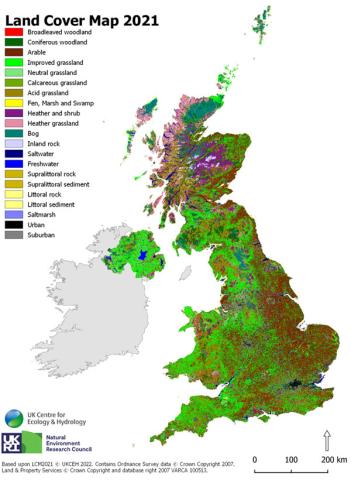 The UKCEH Land Cover Maps (LCMs) map UK Land Cover. They do this by describing the physical material on the surface of the United Kingdom providing an uninterrupted national dataset of land cover classes from grassland, woodland and fresh water to urban and suburban built-up areas. 
UKCEH has a long history of using satellite imagery to map land cover from the first national Land Cover Map of Great Britain in 1990 to the current production of annual Land Cover Maps and land cover change data.
The UKCEH land cover classes are based on UK Biodiversity Action Plan (BAP) Broad Habitats (Jackson, 2000).
Main users
Government, researchers, councils, charities, consultancies and utility companies successfully use Land Cover Maps for a wide range of applications in pursuit of academic, policy-related and commercial interests in the following areas: