Professional summary
Research Interests
Image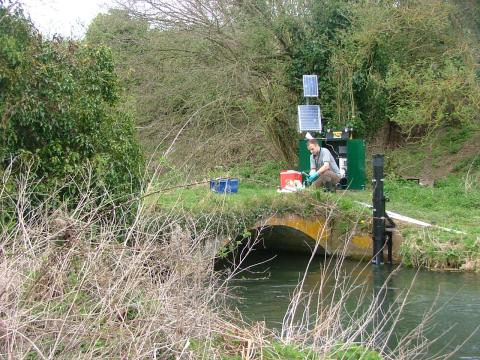 Keywords: hydrology, sediment, agri-environment, natural flood management, environmental flows, flooding, fluorescence, natural capital, ecosystem services
I have 18 years experience in hydro-geomorphology.  Many of my projects have focused on river flow and sediment transport (including its quality) and their ecological impacts.  I led a large project for the Environment Agency that developed prototype tools for evaluating the ecological impacts of floods.   I have worked on projects for DEFRA and Natural England that have involved the collection and assessment of evidence for the effectiveness of agri-environment mitigation schemes and the specification of appropriate monitoring programmes.  I have successfully demonstrated how the novel technique of monitoring natural fluorescence can be used to detect contributions of agricultural pollutants to headwater streams.  I am the CEH champion for research into Working With Natural Processes.  Natural flood management is one of my key areas of interest and I am currently leading a systematic review of evidence for the influence of trees on river flows .  I am experienced in managing large collaborative projects for external customers and have successfully led high profile dissemination workshops (e.g. DEFRA Ecological targeting: March 2016).  I also co-ordinates the science and management of the CEH River Lambourn Observatory (site on a highly protected chalk river).      
Brief CV
2000 to present day:   I am employed as a hydrogeomorphologist at the Centre for Ecology and Hydrology, Wallingford.
2013 to present day:   Hydrological Processes Group Leader.  
Recent projects include:
Systematic review of effect of woodlands on river flows (2016; CEH Core funding) Foci: Natural flood management evidence. Role: Project manager.
Assessment of the water quality outcomes from Agri-Environment & development of an associated Rural Development Programme (RDP) 'impact' indicator for Agriculture & Water Quality. (Natural England; Dec 2014 to Mar 2016) Role: project design and management.
Developing a field tool kit for ecological targeting of agricultural diffuse pollution mitigation measures (DEFRA 2012 to 2016; Collaborative project led by CEH). Role: Led final stages including dissemination.
Environmental stewardship schemes (DEFRA; 2011 to 2015) Role: sediment monitoring and data assessment
Extending the evidence base on the ecological impacts of fine sediment and developing a framework for targeting mitigation of agricultural sediment losses (DEFRA; Jul 2009 – Jun 2012) Role: methodological guidance.
Agri-Environment Monitoring and Technical Services Contract Lot 3: Soil, Water and Climate Change (Ecosystems) (Welsh Government; Apr 2009-Dec 2011) Role: methodological guidance.
Eflows UK futures (DEFRA; May to July 2012) Role: Contributor.
LTLS: Analysis and simulation of the Long-Term / Large-Scale interactions of C, N and P in UK land, freshwater and atmosphere NERC Macronutrients Programme (Oct 2012 – Sept 2015) Role: sediment flux monitoring and flux estimation.
Environmental Consequences of Flooding (Environment Agency; Dec 2007 to Jun 2011) Role: project manager and contributor.
Qualifications

PhD University of Birmingham (2000)

BSc (Hons: First Class) University of Wales, Swansea (1996)
Panels, committees and memberships

British Hydrological Society (>16 years)