Professional summary
Research Interests
My main research interests are:
i) Land Cover Mapping – I am leading the production of a new UK Land Cover Map (LCM2015) and played a key role in the production of LCM2007.
Image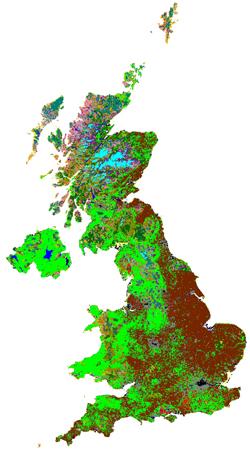 ii) Land Cover Change Mapping – LCM2007 was the third UK Land Cover Map, LCM2015 will be the fourth, which leads many people to assume that mapping land cover change will be easy. Unfortunately, this is not the case, as most of the difference between different land cover maps is error in the maps, rather than change. Consequently, one of my key interests is the development of change mapping methods that work well for the UK. This work has been ongoing across a number of projects, including this JNCC project.
iii) Interdisciplinary projects – I enjoy the challenge of working on interdisciplinary projects where the remote sensing data play a key role. For example:
             a. I am working with hydrologists to map land cover change and impervious surface to understand the impacts of urbanisation on the quantity and quality of run-off in the POLLCurb project.
             b. Whilst, with ecologists, I have been developing methods to map woody cover and aboveground Net Primary Productivity.
iv) Phenology from digital cameras – in particular to capture 'green-up' of upland grassland sites and deciduous woodland sites from ground-based digital camera data.
v) Improved characterisation of the UK land surface – land cover classification is a good starting point for characterising the land surface, but it has some limitations. This strand of my research explores what EO-derived products can be produced accurately and consistently at a UK-scale, so that in the future we have a set of UK-scale EO products – the LCM family! This work is summarised in the 'Interdisciplinary projects' section above.