Invasive plant species like Japanese knotweed cause damage across the UK, but finding them and tracking their growth can be time-consuming and expensive, especially along roads and railways.
Now, scientists from the UK Centre for Ecology & Hydrology (UKCEH) and Keen AI, a Birmingham-based artificial intelligence and machine learning company, are developing a new artificial intelligence (AI) system that can quickly survey large and inconvenient areas for invasive and potentially damaging plant species.
The team has been funded by Innovate UK to run a 10-month pilot project for the new system in two locations: north Wales and the Midlands.
They will place a high-speed camera on top of a vehicle and survey up to 120 miles of vegetated roadside per day. The captured images will be tagged with their GPS location and uploaded to an online platform where UKCEH ecologists will identify the plants in the photographs.
The next task will be to teach the AI how to correctly identify invasive species like Japanese knotweed, rhododendrons, Himalayan balsam and cherry laurel. The team will also add ash trees to its learning: these are native to the UK, but currently at risk of ash dieback disease.
Image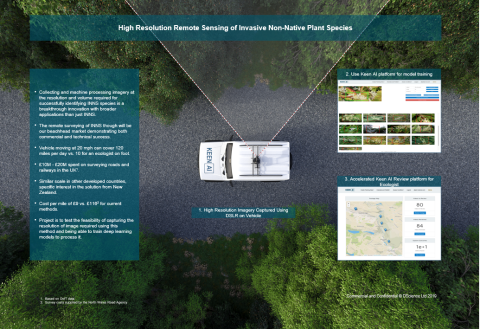 As part of the project, a camera on top of a vehicle will survey up to 120 miles of vegetated roadside per day. Images will be tagged with their GPS location
Dr Tom August, a computational ecologist at UKCEH said: "There's a huge opportunity for AI to help us learn more about the natural world; we're interested to see if we can develop a cost-effective, rapid way to identify invasive plant species in the UK.
"UKCEH has thousands of images of invasive and native plant species from our work and submitted by members of the public. This dataset will help train the AI to identify the plants with an initial focus on a few species.
"Invasive plant species tend to grow in corridors, which is why we're focused on roadside surveys. If the pilot is successful, this could be scaled up in other countries, or for other species of plants, trees or even insects and animals."
There's a huge opportunity for AI to help us learn more about the natural world - Dr Tom August
Amjad Karim, founder of Keen-AI, said: "Using AI to rapidly analyse vast amounts of images will mean safety and cost benefits to highways agencies, landowners and decision makers. Currently this work requires temporary closure of roads to ensure the safety of surveyors.
"We believe our system will significantly reduce the cost of conducting ecological surveys. This unlocks the ability to undertake surveys at a scale that just isn't possible right now. If we are successful, we'll be able to survey the entire UK very cost-effectively, giving a much better understanding of the extent of invasive species.
"There are some interesting technical challenges to overcome, like how do we capture consistent images of the required quality for processing, or identify species from images of many plants. We must solve these problems and we're grateful to Innovate UK for their support.
"This project will combine our experience and knowledge in AI and machine learning with UKCEH's expertise in ecological monitoring."
UKCEH and Keen AI are working in partnership with the North and Mid Wales Trunk Road Agent on surveys in Wales, including the A494.
The project is jointly funded by Innovate UK, part of UK Research and Innovation (UKRI), and Keen AI.
ENDS
Notes to editors
About invasive species
Find out more about invasive non-native species here: https://www.ceh.ac.uk/case-studies/case-study-invasive-non-native-species-monitoring-detection-and-prevention

Species fact sheets are available here: http://www.nonnativespecies.org/factsheet/index.cfm
About Keen AI
Keen AI is a UK-based technology company specialising in Machine Learning and Machine Vision. It combines deep learning with human expertise to process video, imagery and data. Increasing efficiency, reducing costs and improving outcomes. Keen AI's goal is to facilitate positive change through the application of AI to real world problems.
Visit https://www.keen-ai.com/ for more information.
About the UK Centre for Ecology & Hydrology (UKCEH)
The UK Centre for Ecology & Hydrology is a centre for excellence in environmental science across water, land and air. Our 500 scientists work to understand the environment, how it sustains life and the human impact on it – so that together, people and nature can prosper.
We have a long history of investigating, monitoring and modelling environmental change, and our science makes a positive difference in the world. The issues our science addresses include: air pollution, biodiversity, biosecurity, chemical risks, extreme weather events, droughts, floods, greenhouse gas emissions, land use, soil health, sustainable agriculture, sustainable ecosystems, sustainable macronutrient use, and water resources management.
The UK Centre for Ecology & Hydrology is a strategic delivery partner for the Natural Environment Research Council, part of UK Research and Innovation.
www.ceh.ac.uk / @UK_CEH