Policies to improve air quality in the UK over the past 40 years have led to significant reductions in pollution and associated mortality rates, a new study has found.
Research led by the Centre for Ecology & Hydrology charted the levels of emissions of a variety of air pollutants in the UK between 1970 and 2010 – a period in which there was a raft of national and European legislation to tackle pollution. The scientists say their study is ground-breaking due to the long timeframe studied and the removal of weather factors from modelling, meaning any changes in air pollution can be directly attributed to emission levels.
They found that over the 40-year period, total annual emissions of PM2.5 (fine particulate matter), nitrogen oxides (NOx), sulphur dioxide (SO2) and non-methane volatile organic compounds (NMVOC) in the UK all reduced substantially – by between 58% and 93%. Emissions of ammonia (NH3) fell by 17% between 1970 and 2010 but have increased slightly in recent years.
Based on these reduced emissions levels, the study estimated that mortality rates attributed to PM2.5 and NO2 (nitrogen dioxide) pollutants that increase the risk of respiratory and cardiovascular diseases declined by 56% and 44%, respectively, in the UK over the 40-year period. The estimated mortality rate related to pollution from ground-level ozone (O3) – which can damage the lungs – fell by 24% between 1990 and 2010, following a significant rise in the 20 years prior to that.
However, scientists involved in the research stress that tackling air pollution in the UK remains an ongoing challenge. Nitrogen dioxide concentrations are still often above legal limits in many urban areas and levels of ammonia emissions are increasing.
Edward Carnell of the Centre for Ecology & Hydrology, lead author of the study, said: "Technology advances over the past 40 years, such as the three-way catalytic converter for cars and equipment to reduce sulphur and nitrogen dioxide emissions from large power plants have contributed to significant reductions in emission levels and therefore improved public health. However, it is legislation that has driven these technological improvements.
"Our results demonstrate the effectiveness of a series of policies at UK and European level since 1970 and this research supports policy-makers' efforts to continue implementing much-needed measures to further improve air quality."  
The 40-year period investigated by this study saw the implementation of landmark policies on controlling air pollution. These included the 1979 UN Air Convention, major UK legislation such as the Clean Air Act 1993, Environment Act 1995 and several Air Quality Standards Regulations, plus a series of EU directives relating to different pollutants.
Emissions of ammonia, mainly from agriculture, have so far not been a target of stringent legislation. Ammonia is released into the air when manure, slurry and fertiliser are applied to agricultural land. Together with nitrogen oxides from traffic and domestic stoves, for example, it can form fine particles that affect air quality in urban areas far away from the source. In addition to posing a risk to human health, ammonia pollution affects water and soil quality and therefore animal and plant life.
Environment Minister, Thérèse Coffey, said: "We have taken huge strides in tackling air quality over the last 40 years, and this research shows our actions are producing results. 
"But we know there is a lot more to do. That is why our landmark Clean Air Strategy addresses all sources of air pollution. We have clear plans in place to tackle roadside nitrogen emissions and agricultural ammonia, and are working closely with industry, local authorities and other government departments to accelerate progress".
Dr Stefan Reis of the Centre for Ecology & Hydrology (CEH), a senior author of the study, added: "Ammonia contributes not only to threats to human health, but also causes biodiversity loss. However, for the past 30 years, it has been the 'forgotten pollutant'.
"Therefore, we were very pleased to see Defra's new Clean Air Strategy aim for a 16 per cent reduction of UK ammonia emissions by 2030 (compared with 2005 levels), to fulfil commitments under the European National Emission Ceilings Directive. This landmark strategy proposes regulations and financial support, which, if adopted, would substantially reduce UK ammonia emissions, bringing substantial benefits for both for vulnerable ecosystems and human health."
Dr Sotiris Vardoulakis of the Institute of Occupational Medicine in Edinburgh, one of the co-authors of the study, said: "This study highlights the substantial improvements in air quality we have experienced over four decades, as well as the risks that air pollution still poses to public health in the UK. Concerted action is needed by the Government, local authorities, businesses and individuals to further improve air quality and protect human health."
The study, which also involved the Universities of Oxford, Birmingham, Edinburgh and Exeter, was funded by the Natural Environment Research Council (NERC). It has been published in the journal Environmental Research Letters.
Ends
Notes to editors:
Paper information
Carnell E, Vieno M, Vardoulakis S, Beck R, Heaviside C, Tomlinson S, Dragosits U, Heal MR and Reis S. 2019. Modelling public health improvements as a result of air pollution control policies in the UK over four decades – 1970 to 2010. Environmental Research Letters. DOI: 10.1088/1748-9326/ab1542. It will be published at 09.00 BST on June 26, 2019
Emissions levels 1970-2010
Estimated total UK annual emissions in units of Gigagram (1,000 tonnes) from 1970-2010 for SO2, NOx, NH3, PM2.5 and NMVOC.
Image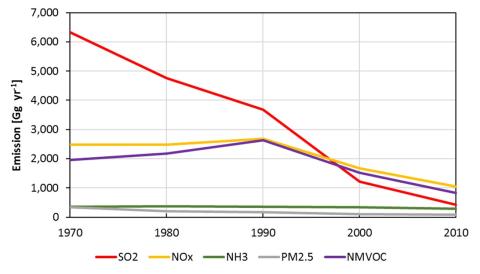 Methodology
Variations of meteorological conditions (for instance rainfall, temperature and wind) between years can greatly affect air quality, increasing or reducing pollutant concentration levels. Unlike previous modelling, this study used a novel approach to remove meteorological factors in order to directly attribute changes in pollutant concentrations in air to changes in emission levels.
The researchers then calculated the percentage of deaths in the UK that can be attributed to the PM2.5, NO2 and 03, for five individual years – 1970, 1980, 1990, 2000 and 2010. The formula for assessing mortality rates linked to pollutant concentration levels is based on a health impact assessment methodology that uses epidemiological evidence and population exposure to air pollutants to derive attributable deaths.
Health risks
Long-term exposure to air pollution reduces life expectancy, mainly due to an increased risk of cardiovascular and respiratory disease plus lung cancer. Short-term exposure can also aggravate respiratory and cardiovascular illnesses, trigger asthma attacks, and increase the risk of death.
The study estimated that over the entire period considered (1970-2010), the proportion of UK mortality (all non-accidental causes) that can be attributed to PM2.5 fell from 11.8% to 5.2% and for NO2 it fell from 5.3% to 3%. The proportion of UK respiratory mortality attributable to O3, rose from 1.5% in 1970 to 2.3% by 1990, and then declined to 1.8% between 1990 and 2010. However, the size of the overlap between associations of mortality with individual pollutants is unknown, so adding the percentages together is likely to lead to an over-estimation of the effects of the air pollution mixture.
About the Centre for Ecology & Hydrology
The Centre for Ecology & Hydrology (CEH) is the UK's centre for excellence in environmental science across air, land and water. CEH is a Natural Environment Research Council (NERC) research institute, part of UK Research and Innovation (UKRI). Our research extends from molecular biology to global climate modelling, and our fieldwork is carried out across the world, from the peatlands of Scotland to the semi-arid West African Sahel. For over 50 years, our experts have monitored and modelled environmental change, generating evidence-driven solutions to complex environmental challenges. We are home to over 350 environmental scientists, based across four sites in Edinburgh, Lancaster, Bangor and Wallingford. 
For media enquiries please contact:
Clare Usher
Communications Manager
Centre for Ecology & Hydrology
clareusher@ceh.ac.uk
Tel: 01491 692518