Zoonotic diseases are infectious diseases that are naturally transmitted between vertebrate animals and humans. They:
make up over 60% of emerging infectious disease events

are evolving in response to multiple environmental change drivers including environmental degradation, agricultural intensification, forest loss, human settlement and climate change

impose huge costs to economies, health and livelihoods

disproportionately affect resource-poor communities in tropical countries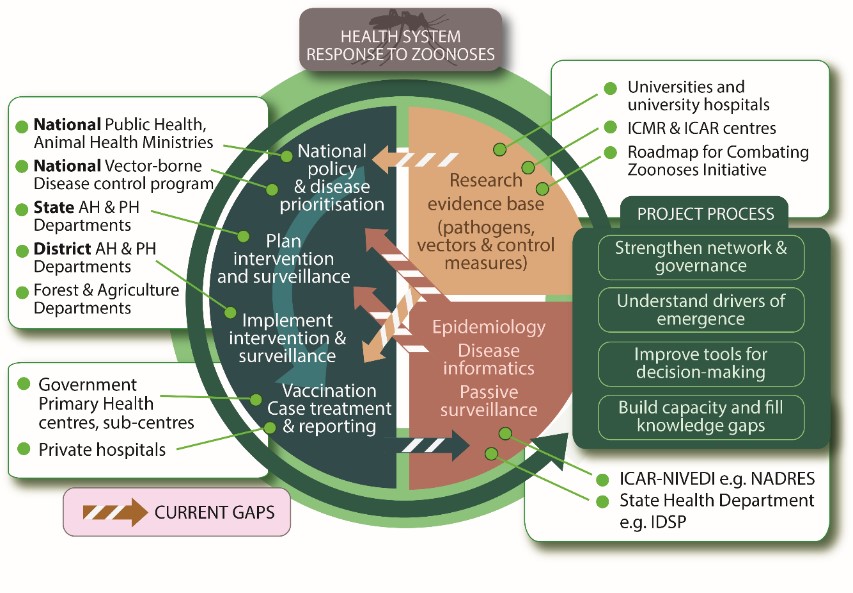 Understanding and effective management of zoonotic diseases requires collaboration of policy-makers and managers from across the animal health, human health, agriculture and environment sectors, across district, national and international levels (Fig.1). This One Health approach recognises the "interconnectedness of human health, wildlife and domestic animal health and the environment" (Fig. 2).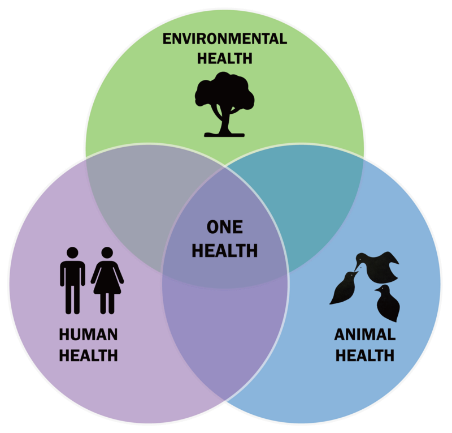 Surveillance, decisions and policy need to be better integrated across these sectors. Research that leads to informatics to support management decisions, like maps and forecasts, must be informed by the knowledge, priorities and needs of local disease managers and policy-makers. Though many quantitative models have been published for zoonotic diseases, these tend to be poorly linked or scaled to policy and only consider a narrow range of relevant risk factors.
The IndiaZooSystems project, focusing on India as a key global hotspot for endemic and emerging zoonotic diseases, considers how data and expertise across the human health, animal heath, agriculture and environment sectors could be combined to develop new quantitative models and tools for zoonotic diseases to inform management.