Image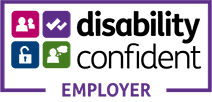 The UK Centre for Ecology & Hydrology (UKCEH) has been recertified as a Disability Confident Employer, reflecting the organisation's ongoing commitment to creating an inclusive and diverse workplace. 
The Disability Confident scheme encourages employers to take action to improve how they recruit, retain and develop people with disabilities, helping them to select the best people for roles from a more diverse range of applicants. 
UKCEH also has an Equity, Equality, Diversity and Inclusion (EEDI) action plan in place to address areas where it can enhance inclusivity and better understand the unique challenges faced by diverse team members. 
Gill Turner Lay, director of people and operations at UKCEH, said: "I am thrilled by this significant achievement. We are dedicated to fostering an environment where everyone's abilities are valued and where barriers are continually being dismantled.
"While this is a proud moment for UKCEH, we also recognize that our journey towards true equity, equality, diversity, and inclusion is ongoing. The recertification as a Disability Confident Employer serves as a reminder of the progress we've made, but it also reinforces the importance of the work that lies ahead." 
Find out more about UKCEH's values.