New research that is enabling scientists to predict outbreaks of Kyasanur Forest Disease in India could reduce deaths and provide a template for tackling other infections that spread between animals and humans.
The tick-borne haemorrhagic disease, commonly known as Monkey Fever, is caused by a virus and affects communities in the Western Ghats forest area in South India, resulting in around 500 cases annually and more than 100 deaths over the past five years.
Rodents, shrews, monkeys and some birds carry the virus, and ticks feeding on their blood can be infected. Humans are infected through tick bites, often as they conduct activities in and around forests that are critical for their livelihoods, like grazing cattle or gathering of wood for fuel, as well as fodder, honey and nuts. Symptoms include a high fever, myalgia, headaches and diarrhoea, as well as nasal, throat, gum and gastrointestinal bleeding.
Research carried out as part of the Monkey Fever Risk project, led by the UK Centre for Ecology & Hydrology (UKCEH) and involving several institutes in India, has resulted in new 'risk maps' and an online tool to identify future disease hotspots. The findings have been published in the journal PLOS Neglected Tropical Diseases.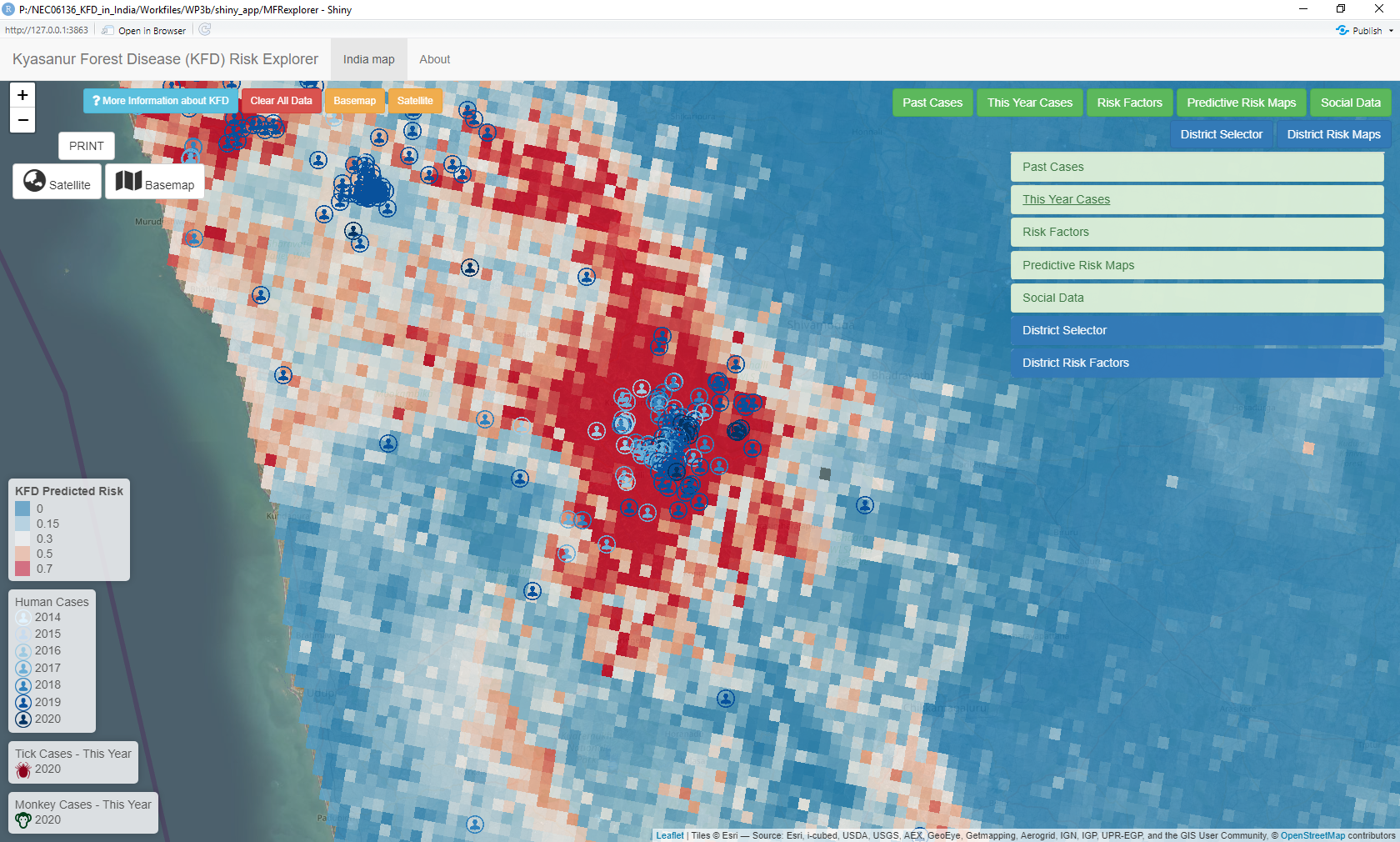 Risk maps predicting future outbreaks of Monkey Fever have been produced as part of the project
For the study, scientists focused on the Shivamogga district in Karnataka, which has had high numbers of Kyasanur Forest Disease (KFD) cases and deaths over several decades, but they are now developing similar models for the whole Western Ghats region.
Dr Beth Purse, an ecologist at UKCEH, who leads the project, says: "Predicting locations of future outbreaks will be key. It will enable local decision makers to prioritise areas for tick surveillance and awareness campaigns, and increase the chance that new areas of transmission will be detected early so vaccination programmes can be put in place."
Dr SK Kiran of the Karnataka Government's Department of Health and Family Welfare Services, and co-author of the study, says: "The risk modelling has already been shown to be effective. Usually, we vaccinate within a 5km radius of known human cases, but by using the risk map ahead of the peak season for the disease this year, we were able to correctly predict new hotspots outside this range and vaccinate people before cases were reported there."
We were able to correctly predict new hotspots and vaccinate people before cases were reported there - Dr SK Kiran
Dr Purse explains their study was a step-change from previous research, providing a framework for how risk models for other zoonotic diseases (infections spread between animals and humans) should be developed and validated.
While risk maps and online tools, used to support decision-making on dealing with similar diseases, tend to be based on assessments of ecological hazards from high tick numbers, this project's modelling has also taken social risk factors, like forest activities and proximity to health centres into account. Secondly, unlike previous studies, it integrated knowledge of local stakeholders into models of zoonotic disease patterns.
Dr Purse says: "Our models were jointly developed with public health, veterinary and forestry decision-makers and managers in the areas affected by KFD. This reflects the 'One Health' principle, where practitioners and researchers working in human, animal and environmental health work together."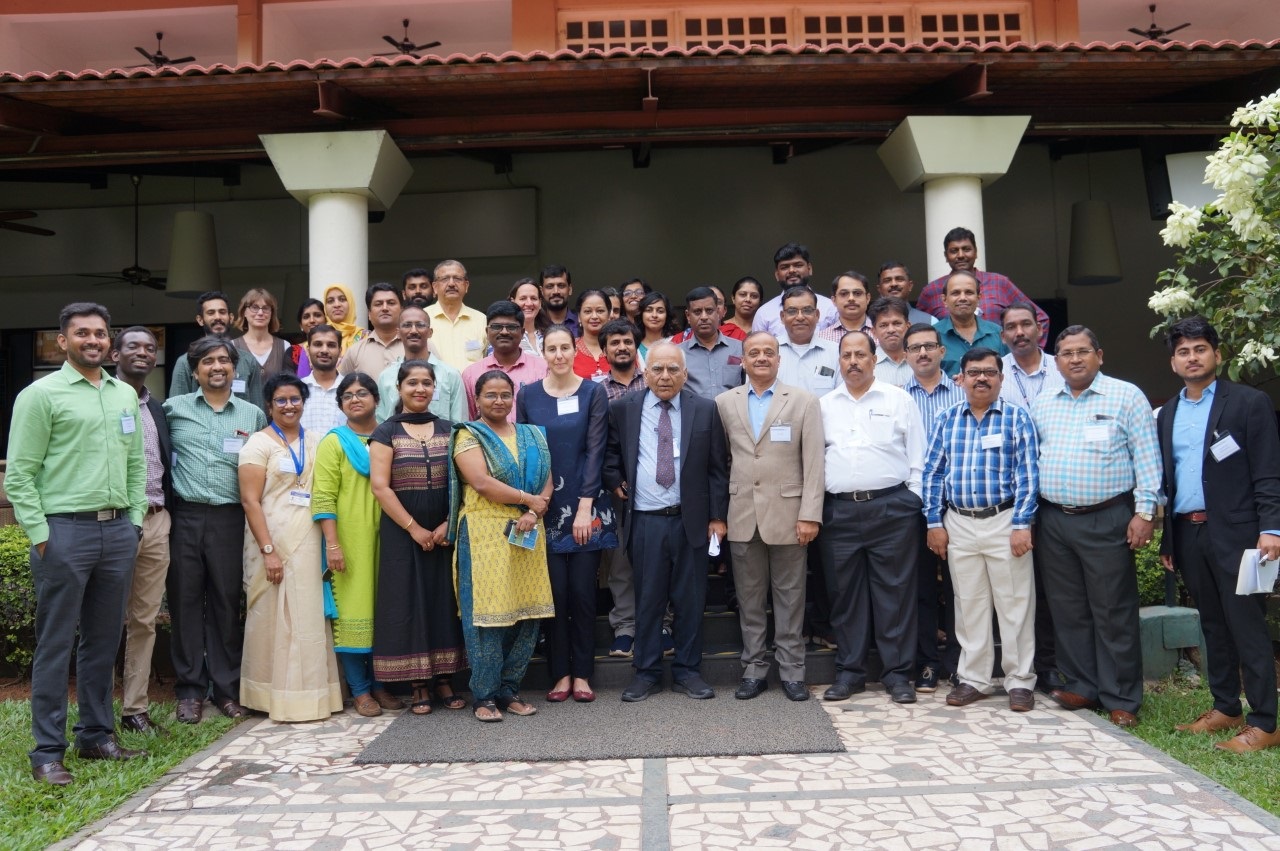 Local stakeholders from the health and forestry sectors in Karnataka, Maharashtra and Kerala attended a project workshop in December 2019
The study, funded by UK research councils through the Global Challenges Research Fund, showed there was a higher risk of humans contracting the disease in deforested areas where evergreen and deciduous forest has been cut down to make way for plantations, and also where there were large densities of grazing cattle. Cattle act as hosts for ticks and transport them between forests and villages.
Dr Sarah Burthe of UKCEH, a co-author of the study, says more research – including the analysis of ticks and blood samples from animals that carry the virus – is under way to establish why different forest types increase the risks of contracting KFD.
She adds: "It may be that evergreen forest and plantation supports higher densities of the small mammals and primates that infect ticks with the virus, or that a larger number of people use forests in these areas and are therefore exposed to infected ticks."
Meanwhile, social factors that increase risk in certain areas include a lack of tick surveillance, poor awareness of the disease as well as low vaccination rates. At present, there is low take-up of the KFD vaccine as multiple doses are needed for it to be effective and some people are concerned about side effects.
Further information
Purse et al. 2020. Predicting disease risk areas through co-production of spatial models: the example of Kyasanur Forest Disease in India's forest landscapes. PLOS Neglected Tropical Diseases. DOI: 10.1371/journal.pntd.0008179
Monkey Fever Risk is a partnership between UKCEH, the Karnataka Government's Department of Health and Family Welfare Services, the Indian Council for Medical Research's National Institute for Traditional Medicine and National Institute of Epidemiology, the Indian Council for Agricultural Research's National Institute of Veterinary Epidemiology and Disease Informatics and the Ashoka Trust for Research in Ecology and the Environment.
The multidisciplinary £600,000 project is funded by a Foundation Award from the £1.5bn Global Challenges Research Fund, and supported by the Medical Research Council, the Arts and Humanities Research Council, the Biotechnology and Biological Sciences Research Council, the Economic and Social Research Council and the Natural Environment Research Council.
More information on the project is available at www.monkeyfeverrisk.ceh.ac.uk