05.12.2022
A new free web tool to help land managers monitor and improve the health of soil in common habitats in Britain is now available.
The SOil funDamentals (SOD) tool was developed using data from the UKCEH Countryside Survey, which has been exploring the changes in soils and vegetation across Great Britain since 1978. It enables landowners to benchmark the health of their soil, seeing where it sits within the bigger national picture. Unlike previous benchmarking tools for soil health, this is the first to consider the health of soils within the wider semi-natural landscape of grasslands, woodlands and wetlands, as well as agriculture, and to be built from a nationally representative sample from across Great Britain.
Healthy soils support a range of environmental and societal benefits, including food production, climate change mitigation, clean water supply and biodiversity. Yet land use change, over-exploitation, pollution and climate change all threaten the health of soils.
While every soil is different, generalities about their condition can be made using factors known to influence soil health the most, including land cover, soil type and rainfall. The new tool assesses indicators of soil organic matter, pH, bulk density (used as a gauge of soil compaction) and earthworm abundance. These provide physical, chemical and biological indicators of healthy soil functioning and can be measured reliably for most environments in the UK.
Image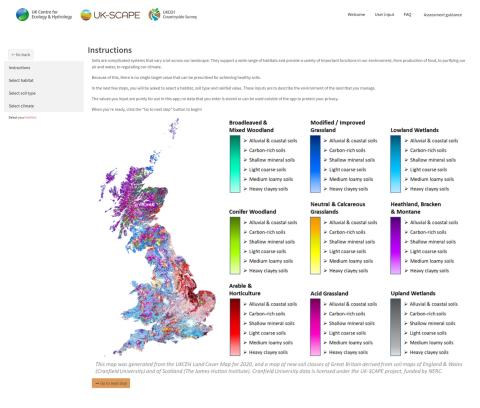 More soil organic matter is usually better, as this means more carbon storage in the soil, a greater availability of nutrients for plant growth, and less soil loss via erosion. Lower bulk density and larger earthworm populations are generally better too for similar reasons, especially on agricultural land where compaction can be a serious issue. Soil pH, meanwhile, ought to be maintained within an optimum range for crop growth in arable landscapes, and for healthy biological functioning in other ecosystems such as woodlands.
These indicators are also closely linked. For instance, soil organic matter is key to promoting soil porosity (which affects bulk density), maintaining a soil's buffering capacity (its ability to resist pH change), and is a major source of energy for living organisms including plants and creatures that live in the soil such as earthworms.
In the future, other soil properties which are important for soil health, for example, contaminant levels, may be included following assessment of user feedback on their current and future priorities. It is also hoped to extend the tool to cover soils in Northern Ireland as the first ever Countryside Survey Soils becomes available. A new paper detailing the creation of the benchmarks is due to be published next year.