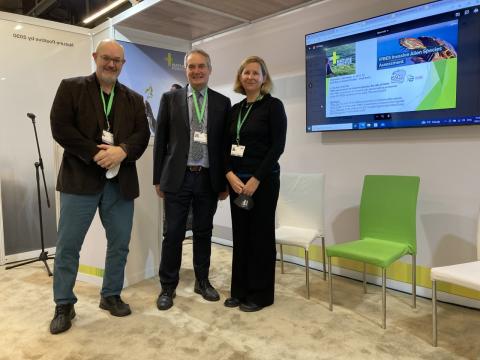 Professor Helen Roy, an ecologist at the UK Centre for Ecology & Hydrology, is one of the co-chairs of the IPBES assessment on invasive alien species, which will be published in 2023. Helen attended the UN Biodiversity COP15 conference to discuss some of the issues…
I am one of the many biodiversity scientists attending COP15, where discussions on the post-2020 Biodiversity Framework are underpinned by unprecedented extinction rates, the worsening state of our natural world and the failure to meet the last set of biodiversity targets. However, amongst the urgency to reach agreement, there is reason for hope.
The commitment to reverse biodiversity loss is evident from the inspiring evidence shared by the biodiversity science community on diverse topics including indicators and global monitoring systems. Advances in monitoring and modelling are providing tools for assessing biodiversity and evaluating the effectiveness of action in addressing the biodiversity crisis. Such approaches will be critical for the Global Monitoring Framework being developed. It has been exciting to hear the aspirations and ambitions for biodiversity monitoring, including the potential to embrace emerging tools and technologies for assessing biodiversity globally.
I have the privilege of co-chairing the Intergovernmental Science-Policy Platform on Biodiversity and Ecosystem Service (IPBES) Thematic assessment of invasive alien species and their control. The IPBES assessments provide a synthesis of evidence on many different themes and include the landmark Global Assessment Report on Biodiversity and Ecosystem Services.
Working with a global community through the IPBES assessment process has been incredibly insightful for me. Integrating data and knowledge from many diverse systems through participatory mechanisms, including Indigenous and local knowledge, has been extremely rewarding and strengthens the outcomes of the assessments immeasurably.