Changes in the Indian Summer Monsoon and Agriculture in Sundarbans
Alexandre Gagnon, Lalu Das, and Indrani Roy
The Sundarbans extends over the Indian state of West Bengal and neighbouring Bangladesh (Fig. 1). This region, at the confluence of the Ganges, Brahmaputra and Meghna Rivers in the Bay of Bengal, is the largest prograding delta and tidal mangrove forest in the world (Rogers and Goodbred, 2014). About 40% of the 10,000 km2 of the Sundarbans mangrove forest lies in India, while the rest is in Bangladesh. Water bodies, including canals, rivers and streams ranging in width from a few metres to several kilometres, occupy the Indian part of Sundarbans. The mangrove forest extends over 200 islands, separated by 400 interconnected networks of tidal waterways and 15 major rivers. In the Indian part of Sundarbans, there are a total of 19 community development blocks of which six are under the North 24 Parganas and 13 under the South 24 Parganas districts (Dasgupta and Shaw, 2015), in addition to a National Park, reserve forest and wildlife sanctuary area (Fig. 1).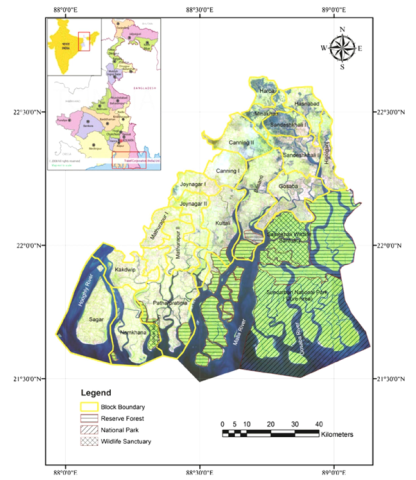 Sundarbans National Park and World Heritage status
Recognising the uniqueness and importance of this mangrove region, notably as a nursery for marine organisms and as a buffer zone against cyclones (Sakib et al., 2015), to the city of Kolkata, the United Nations Educational, Scientific and Cultural Organization (UNESCO) declared the Indian portion of the Sundarbans forest a natural World Heritage site in 1987 (UNESCO World Heritage Conservation, https://whc.unesco.org/en/list/452, accessed on August 28 2019). Sundarbans also became part of the Man and Biosphere Program of UNESCO by being included in the Global Network of Island and Coastal Biosphere Reserves (Sánchez-Triana et al. 2014). Figure 2 provides a glimpse of the density of the forest and the water landscapes of the region.