Improved projections for rainfall, river flows and groundwater levels in the UK up to the year 2080 will enable water companies, regulators and government agencies to better prepare for the impacts of future climate change.
Enhanced Future Flows and Groundwater (eFLaG) is a dataset that has been published by the UK Centre for Ecology & Hydrology (UKCEH), the British Geological Survey and HR Wallingford. 
The modelled predictions for how hydrological conditions could change over the coming decades are based on the latest updated long-term climate modelling from the Met Office and can be used to better assess future water availability.
The projections will help enable the water industry, for example, to plan infrastructure improvements and put drought contingency strategies in place to ensure future water supply meets demand and potential risks to the environment are minimised.
A successor to the Future Flows and Groundwater Levels dataset, eFlaG contains modelled projections for 200 catchments, 588 groundwater sources and 54 boreholes covering the length and breadth of the UK. These sites were chosen to reflect the national picture in terms of representation of geographical location, rainfall, soils, altitude and aquifers, and includes catchments that are 'near-natural' and those significantly affected by human activity. 
UKCEH hydrologist Stephen Turner, who was part of the team that developed eFLaG, explains more analysis of the dataset will be done to better predict future droughts in a changing climate. 
He says: "There are large uncertainties in the extent of the impact of climate change, and how hydrological conditions may vary between regions. However, our analysis so far shows the UK will see significant increases in the severity of drought over the coming century."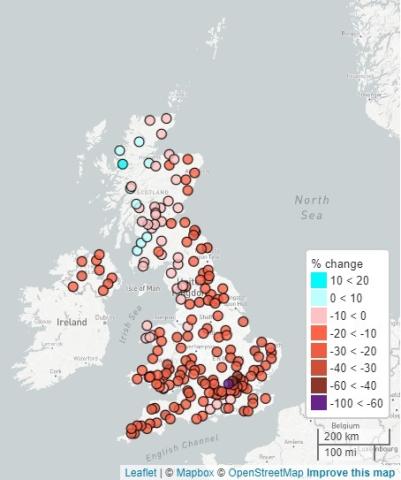 The work on the dataset was funded by the Met Office through the Strategic Priorities Fund's UK Climate Resilience Programme.
Professor Jason Lowe, Head of Climate Services at the Met Office, says: "The eFLaG project has shown how UK climate projections can be used to provide new information to help the country plan for future changes in rainfall and water availability over coming decades."
Scientists in the e-FLaG team have been working with water companies to understand how the projections can be used in future planning. 
Dr Jo Cullen, a Water Resources Manager at Dŵr Cymru/Welsh Water, says: "The eFLaG datasets could potentially provide an important evidence source for understanding how drought risk may evolve in the future and the implications for water resources planning. We are currently working with the eFlaG team to explore how the dataset can be applied in practice."
While eFLaG has been principally developed to support planning for droughts, Mr Turner says the quality of available data will allow them to be used for a very wide range of purposes, as happened with its predecessor, Future Flows and Groundwater Levels.
In addition to supporting drought planning, this earlier dataset was used for assessment of climate change impacts on water quality, health of river ecosystems and the likelihood of irrigation restrictions, among other applications. While eFLaG is not designed for flood risk, the dataset could be used for projecting frequency of high river flows in future.
Further information
The eFLaG dataset is available to download from the Environmental Information Data Centre (EIDC).
A series of webinars, held from 12 to 1.30pm on 17 March, 7 April and 28 April, will provide further information about eFLaG and discuss how future droughts may affect the UK's water supply network. Email Eleanor Hall at e.hall@hrwallingford.com for details and to register.
A preprint paper on the Earth System Science Data website describes the eFLaG dataset in detail, and is open for comments from members of the research community.