For quotes or information on chemical analysis please contact Dr M Gloria Pereira.
Step-by-step guide to accessing this service:
Image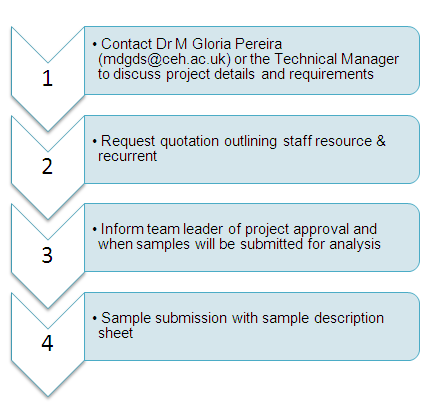 Submitting samples for analysis
Once a quote has been obtained, samples should be suitably packaged and sent with accompanying safety information and a sample information sheet to the analyst concerned at this address:
Centre for Ecology & Hydrology
Lancaster Environmental Centre
Library Avenue
Bailrigg,
Lancaster
LA1 4AP
Tel: +44 (0)1524 595800
Fax:+44 (0)1524 61536
Please note that we are unable to analyse samples which do not have an accompanying sample information sheet. Fields in bold are mandatory and if they are left blank it could result in significant delays to analysis. Samples will be disposed of three months from analysis unless the customer requests otherwise.
Safety information required
When submitting samples for analysis, the following safety evaluations must be considered:
Are the samples covered by a Risk Assessment or COSHH (Control of Substances Hazardous to Health) Assessment? Please see additional information here (external link). 
Please note: All sample preparation and handling should be covered by a Risk Assessment. External customers should send a copy of the Risk Assessment to CEH with the samples. COSHH assessments should accompany all samples sent by post or courier.
Are the samples being posted? See the up-to-date information on samples that cannot be posted by Royal Mail (external link).
Are samples being transported by road or rail? 
See the Health & Safety Executive guidelines on the transportation of dangerous goods (external link). 
There are also notes on the Carriage Regulations including exemptions for dangerous goods packaged in small quantities (external link).