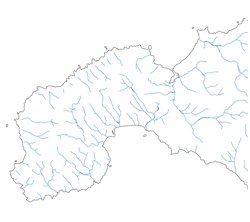 CEH's 1:50,000 watercourse network was derived from Ordnance Survey 1:50,000 maps and was the first continuous digital river network to be produced for Great Britain.
The 1:50,000 watercourses has been used to define flow paths in CEH's Integrated Hydrological Digital Terrain Model (IHDTM), which in turn is used to define drainage paths in the Flood Estimation Handbook CD-ROM.
Technical features
Scale: 1:50,000
Supply Format: Shape file
Coverage: GB
Publications
Moore R V, Morris D G and Flavin R W, 1994. Sub-set of UK digital 1:50,000 scale river centreline network. NERC, Institute of Hydrology, Wallingford.
Licensing
For information on licensing this dataset please contact:
Data Licensing Enquiries, Centre for Ecology & Hydrology, Maclean Building, Crowmarsh Gifford, Wallingford, Oxfordshire, OX10 8BB, United Kingdom; telephone +44 (0)1491 692549
email: datalicensing@ceh.ac.uk
Further information on this dataset, as well as an online ordering process, can be found on the Environmental Information Platform.