The UKLEON project will establish the UK's first coordinated, high-intensity lake monitoring network. Through the following projects, termed demonstration science-topics, we will demonstrate that such a network supports the scientific agenda for high quality and frequent measurement:
Real-time forecasting of lake behaviour
A major aim of this project will be to incorporate the real-time data available from the sensor network into a forecast system for lake phytoplankton behaviour (initiation, peak bloom and senescence) and, in particular, to provide warning for the onset of cyanobacterial blooms. For this we will use the phytoplankton community model, PROTECH, along with the real-time data and medium term weather forecasts.
PROTECH is a well-established, one-dimensional model, simulating lake thermal characteristics, overall algal biomass and biomass of individual phytoplankton species. Uncertainty in making forecasts resulting from inherent uncertainties in the knowledge of inputs to the lake, the representation of the processes in the lake, and the future weather conditions will be accounted for. Uncertainties in future weather conditions can be allowed for by using the ensemble weather predictions available from the European Centre for Medium-range Weather Forecasts (ECMWF).
This part of the project is led by Dr Alex Elliott, CEH and Professor Keith Beven at Lancaster University.
Contact
Dr Alex Elliott, CEH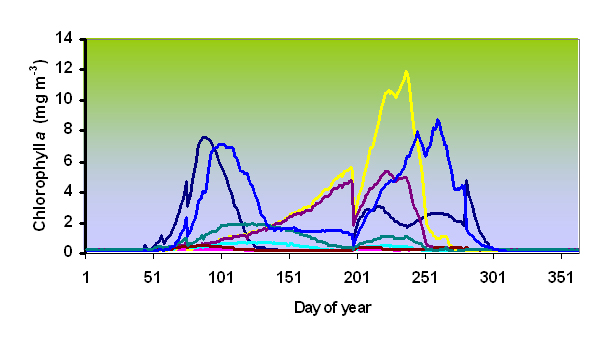 Above: PROTECH output for Blelham Tarn. The different coloured lines represent different phytoplankton species or functional types.
The effect of meteorology on the fate of carbon within lakes
The importance of surface waters in the global carbon cycle has only recently been recognised with freshwaters now increasingly regarded as "hotspots" of terrestrial carbon processing and atmospheric CO2 efflux. Within terrestrial drainage systems, lakes are particularly important due to their:
large surface area facilitating gas exchange, including evasion, and at times drawdown, of atmospheric CO2
longer residence time facilitating transformation of organic and inorganic carbon to biomass, dissolved compounds or CO2
role in sequestering particulate organic carbon in sediments.
We will investigate:
Diel to seasonal variability of [CO2 (aq)] using dissolved CO2 sensors and CO2 calculated from pH and water temperature and approximately monthly manual measurement of DIC and alkalinity flux.
The rate of loss of epilimnion DIC and POC to fluvial export supported by measurements of dissolved oxygen concentration and the continuous monitoring of lake outflows.
Carbon flux to the sediments at monthly resolution by deployment of sequencing sediment traps in deep water locations of three lakes in the first year and three further lakes in the second year.
Contact:
Prof Susan Waldron, University of Glasgow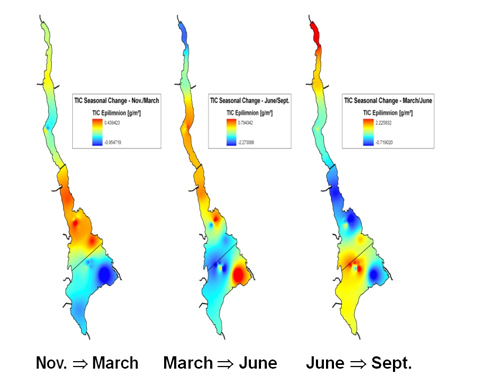 Above: Seasonal changes in epilimnetic inorganic carbon in Loch Lomond, 2004-5
The level of regional coherence in lake response on sub-seasonal timescales
It is well known that lakes can show a regionally coherent response to large-scale weather patterns such as the North Atlantic Oscillation, the position of the north wall of the Gulf or the jet-stream mediated by Rossby Wave breaking.
Lakes may also be synchronously affected by the effects of atmospheric deposition, meteorological effects on the catchment and hydrological connectivity. Until recently, all the studies of coherence have used routine monitoring data, at best at weekly resolution, to investigate coherence on seasonal or interannual timescales. The degree of coherence is governed by the strength of local, lake-specific factors compared to the strength of regional drivers. On long-time scales, trends in local characteristics, such as eutrophication, may obscure regionally synchronous behaviour at finer scales.
Use of high resolution data to examine coherence in lake temperatures has just begun but, as yet, coherence of biological, chemical or wider physical variables on these short time-scales has not been investigated.
We will investigate:
the coherence of algal blooms
the coherence in-lake carbon-processing
the scale and extent of temporal coherence for different variables
the effect of lake and catchment features on extent of coherence
linking coherence of eg, temperature, to physical processes such as total heat flux and to meteorology.
This work is being carried out by a tied PhD student, Iestyn Woolway, largely funded by OTT Hydrometry and registered at University College London, and supervised by Jon French and Stephen Maberly.
Contact
Stephen Maberly, CEH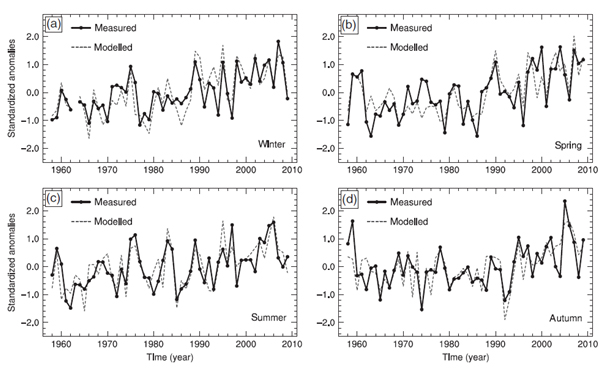 Above: Relationship between measured surface temperature and temperature modelled using an index of cyclonic and anticyclonic Rossby wave breaking in lakes in Cumbria in four seasons. Global Change Biology (2011) 17, 2013-2022, doi: 10.1111/j.1365-2486.2011.02391.x
top image: Bassenthwaite Lake in the English Lake District. Peter Guess/shutterstock.com