Working for UKCEH: our values and expectations
As a professional research organisation, our objective is performance excellence in order to deliver world class environmental science. This is about how we can best work together to address our future challenges:
Future vision
"Working on some globally important environmental issues that affect the future of us all."
We will work together to advance scientific knowledge, understand stakeholder and customer needs, deliver excellent world class outputs to meet these requirements and continue to build skills and knowledge for the future.
Expertise
"Having the best staff in their field who enjoy working here and are passionate about their role."
Provide world class scientific expertise. Provide professional management and infrastructure closely aligned with our science strategy.
Achieving excellence
"Pride in working for an organisation that is ethical, has impact and is independent."
Work together with an ethos of continuous improvement. Strive for excellence in delivery to meet stakeholder and customer needs.
UKCEH values
UKCEH is a great place to work because of its people and our shared passion; let us continue to build on the foundation of high standards, respect for each other and strong communication. We continue to be successful by building on our strengths and our ethos: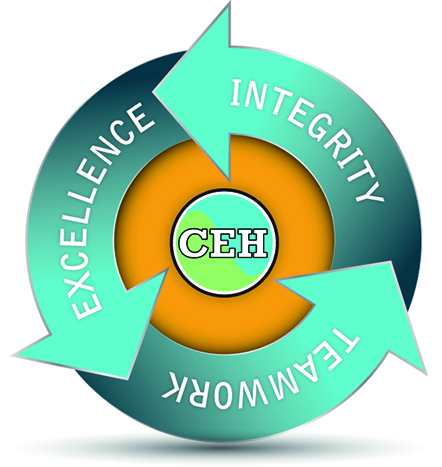 Excellence - delivering world class science supporting global environmental challenges; valued by stakeholders and meeting customer requirements.
Integrity - maintaining the highest standards of research and professional ethics and impartiality.
Teamwork - working together effectively with colleagues, partners and customers to achieve long term success.
Quotes from UKCEH staff
"We address big questions at the national and international levels."

"A trusted impartial and honest organisation."

"My work is valued and therefore I feel valued."

"Freedom and trust."

"Equality across gender and roles."

"Consultative-staff and union views matter and are taken into consideration."

"Transparency through all levels of management."

"Fulfilment in my role."

"Support from my managers; learning new skills and opportunities to get involved with different activities."
People Strategy
The People Strategy (carried forward from CEH to UKCEH on independence in December 2019) is an important document, relevant to all of us in UKCEH and those we interact with. You will find this useful in understanding what we see as our values and expectations as an organisation and as individuals.