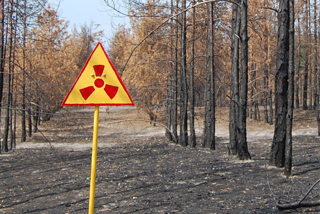 Radioecologists at the Centre for Ecology & Hydrology provide an independent laboratory service to a range of customers, from government agencies to the private sector.
We work to internationally-recognised standards in UKAS-accredited laboratories (full details of our accreditation schedule can be found here). The laboratory participates in proficiency testing schemes organised by the National Physics Laboratory, the International Atomic Energy Agency and the United States Department of Energy (MAPEP).
Our laboratory has ten hyper-pure germanium detectors used for determining gamma emitting nuclides such as 137Cs, 134Cs, 131I and 40K in a variety of environmental sample geometries and matrices. The detectors are calibrated for efficiency using a mixed radionuclide standard which covers an energy range of approximately 59-1850 keV. Spectra are analysed using Canberra Genie software.
We have considerable experience in analysing a range of sample types including:
soils and sediments
water
vegetation
foodstuffs
wildlife
The site has designated laboratories for the preparations of all these sample types.
Contact