Challenges and Solutions in Urban Areas
UKCEH has a rapidly increasing portfolio of urban projects around the world, often working in an inter-disciplinary setting, with social scientists, economists and health experts as well as city stakeholders.
Our urban portfolio covers projects in the following areas (links):
Urban green and blue space provides multiple benefits to city dwellers. These include mitigation of pressures such as air and water pollution, heat stress, noise, flooding, as well as more direct benefits resulting from access to greenspace which improves physical and mental well-being.
The science that underpins urban green- and blue-space benefits is in its infancy. Although expertise in this area is growing rapidly, there remain many scientific challenges to address. Examples of the questions that UKCEH is working to answer include:
Does heat mitigation require a minimum area of greenspace to be effective? 
Do parks need a minimum number of people using them before they are seen as a 'safe' open space for recreation?
How clean do urban waters need to be before they are seen as valuable by urban residents? What aspects do they see as 'clean' ?

1. Urban Natural Capital Accounts
UKCEH has worked with environmental economists (eftec) and other partners to develop the UK urban natural capital accounts, through a series of projects funded by the UK Office of National Statistics (ONS) and the Department of Environment Food and Rural Affairs (Defra)
Developing Estimates for the Valuation of Air Pollution Removal in Ecosystem Accounts
Contact: Laurence Jones
Image
Pollution removed by urban vegetation, and resulting health benefits (Jones et al. 2019)
This UKCEH-led project developed a novel modelling approach to calculate the health benefits of air pollution removal by vegetation, to support the UK natural capital accounts. We used the atmospheric chemistry and transport model EMEP4UK to calculate how vegetation reduces the concentrations of those pollutants most harmful to human health (PM2.5, NOx, SO2, O3). We worked with environmental economists (eftec) and health economist Mike Holland at EMRC to calculate the health benefits which result from pollution removal by all UK vegetation types.
The overall value of this ecosystem service was £1.03 billion in 2015, and the value provided just by the vegetation in urban areas was £0.2 billion. Data are presented in this report to ONS, and this paper.
On-line Pollution Removal Tool
Contact: Laurence Jones
Image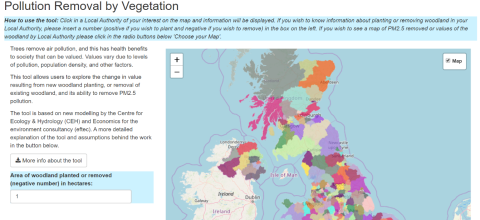 UKCEH has developed an on-line tool, with eftec, that allows users to calculate the benefits of new woodland (or loss of benefit from removing existing woodland) in their Local Authority.
Scoping natural capital accounts for ecosystem services in urban areas
Contact: Laurence Jones
In a scoping project for Defra, we worked with eftec and other partners to design new approaches to calculate urban natural accounts for a suite of ecosystem services. UKCEH led the quantification and spatial analysis, reported here. In subsequent projects, we took these ideas further for two services: noise mitigation and heat mitigation/cooling effects.
Natural capital accounts for noise mitigation in urban areas
Contact: Laurence Jones
Image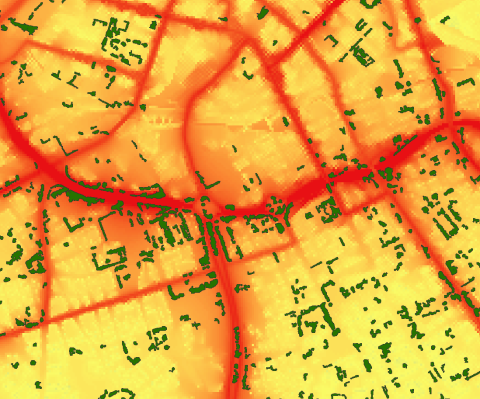 Trees can help reduce road noise by 1-2 decibels, but only in the right locations
We developed a new method to estimate the health benefits resulting from noise mitigation by urban trees. UKCEH led the method development, quantification and spatial analysis, while eftec provided the economic analysis. The value of road-noise mitigation by trees in 2015 was £61 million, reported here.
Natural capital accounts for heat mitigation in urban areas
Contact: Laurence Jones
Image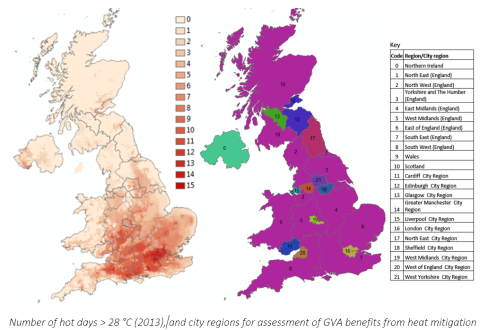 We developed the methodology to calculate local cooling effects by urban woodland, grassland and water, in conjunction with eftec and Collingwood Environmental Planning Limited. UKCEH led the quantification and spatial analysis. The approach assesses economic losses in eleven UK city regions resulting from hot days above 28 °C, and how they are reduced by urban green and blue space, reported here.
2. Urban Flood Risk
UKCEH has worked on numerous projects modelling and predicting impacts of urbanisation on flood risk
Contact: Chris Taylor
Image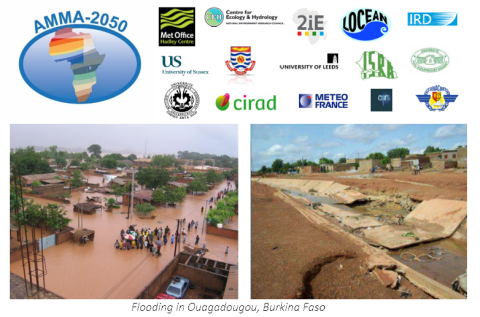 A DFID Future Climate For Africa (FCFA) project on understanding the effects of climate change in West Africa – with an urban case study focused on the City of Ouagadougou in Burkina Faso. The project has three main objectives:
Provide expert judgement on future projections of High Impact Weather and climate which is tailored specifically to the needs of decision-makers.
Create tools and methodologies for using these projections for planning within the agricultural and hydrological sectors.
Demonstrate the potential for effective application of reliable 5-40 year climate projections and associated uncertainties in regional to local scale decision-making
Currently we are in the process of applying state-of-the-art convection permitting projections of extreme weather events over the city of Ouagadougou to understand the impacts on flooding. We are co-developing tools that enable regional stakeholders to adapt and plan for climate change and rapid urbanisation to reduce flood risk. Outputs are being used in local planning and regional climate change adaptation plans.
Urbanisation metrics & flood estimation, NERC/UKCEH
Contact: James Miller
Image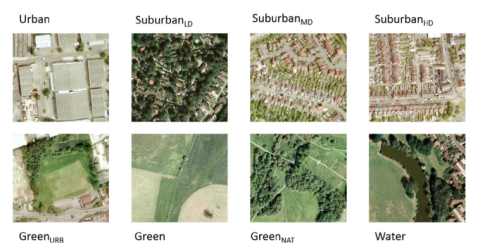 Different densities of urban greenspace & urban morphology
UKCEH is undertaking novel research investigating the role of spatial land cover on storm runoff and flooding by developing and applying landscape metrics commonly employed in landscape ecology. This emerging area of research is showing the value of this approach and its potential for assessing the role of nature based solutions in mitigating urbanisation effects.
Integrating urbanisation in flood frequency methods, NERC
Contact: James Miller
Image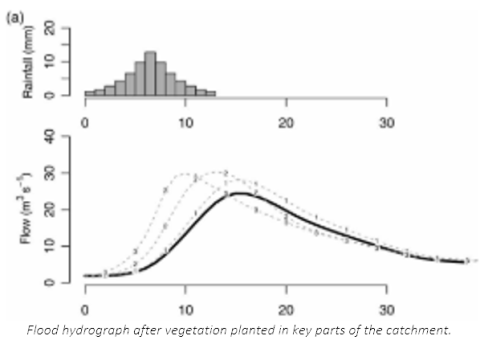 UKCEH has led development of the updated industry standard rainfall-runoff model ReFH2 to incorporate the effects of urbanisation in the modelling schema and to provide more robust estimates of flood risk in urban areas. Testing shows the new methods provide more robust estimates for flood risk assessments. Reported here.
Image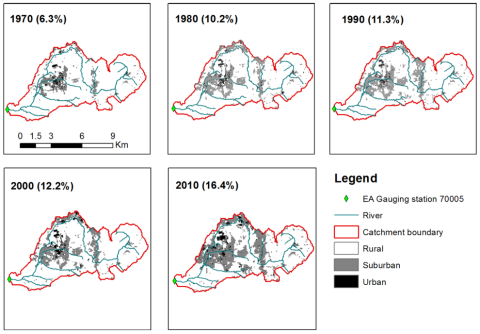 Change in urban land cover at catchment scale
UKCEH has investigated methods for detecting and attribution of urbanisation effects of flood extremes using non-stationary flood-frequency models – incorporating long-term Land Use Change and high-flow data. Research has highlighted the role of urbanisation in driving higher flows, particularly in summer season, and the need for non-stationary models for assessing future flood frequency. Reported here.
Mapping urban land use change using historical data, NERC/UKCEH
Contact: James Miller
Image

Testing different methods for calculating impervious area, squares are 2x2km: a) Aerial-photography derived, b) Fractional imperviousness, c) Imperviousness
 
This INNOVATE research sought to develop new methods for mapping historical urban land use change to periods back before satellite data was available and which could be used to determine changes in imperviousness. The method utilised ordnance surveys maps and image processing to map imperviousness over a 60 year period (1960 – 2010) and compared this to available impervious maps derived from satellite imagery, reported here.
Peri-urban impacts on hydrological fluxes, NERC
Contact: James Miller
Image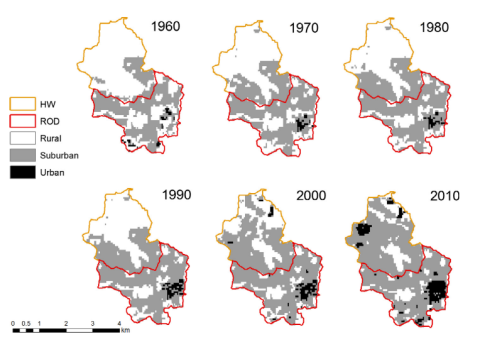 Urbanisation at catchment scale over 50 years, UK
The impacts of peri-urban development were investigated under a NERC funded programme on heat fluxes and urban flooding. The flood research built on innovative mapping of urban land use change and hydrological modelling. This paper showed that progressive urbanisation severely affected the timing and magnitude of urban runoff.
Image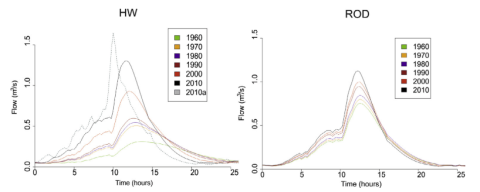 Change in timing of flood peak with increasing urbanisation
Urban Creep: manage future flood risk by quantifying rates of urban creep
Contact: Clare Rowland, James Miller
Image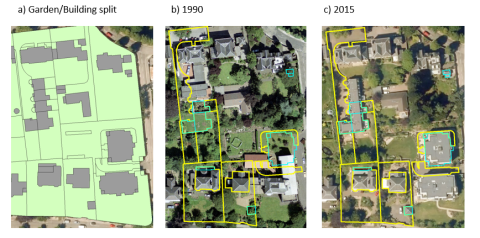 Calculating loss of urban greenspace in Edinburgh
When gardens and other vegetated areas in existing settlements are built on or paved over, the land cover becomes more impermeable and this change is often referred to as 'urban creep'.  Urban creep is likely to be a significant factor in future surface water flood risk. Being able to quantify the rates of urban creep is crucial to managing this risk.
As part of this project, funded by the Centre of Expertise for Water (CREW), UKCEH has developed a method to map changing urbanisation and identify areas of urban creep using aerial photography of Edinburgh. The results, due in late 2019, will provide the first high-resolution, city-wide estimates in Scotland. This new mapping method can be applied to other cities to assess potential impacts of urbanisation and help inform projections of future flood risk. Reported here.
LWEC report cards – urbanisation and climate change on storm runoff
Contact: James Miller
Image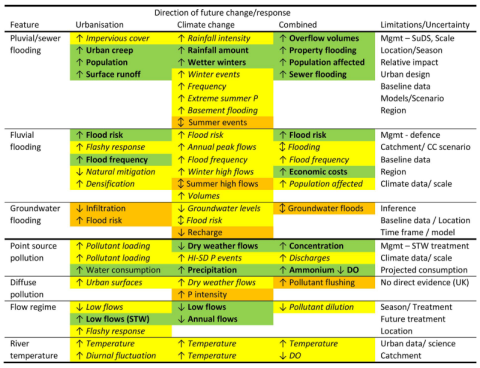 Score card for flood risk parameters
An Environment Agency project for the Living With Environmental Change (LWEC) programme investigated the evidence concerning the impacts of climate change and urbanisation on all forms of urban flooding. The findings are presented in this report and this paper.
3. Urban Air Quality
United Nations Environment Assembly (UNEA) resolution: Pilot to determine air quality drivers for Sub-Saharan Africa (AQD-Nairobi), NERC, 2016-2018
Contact: Marsailidh Twigg
Image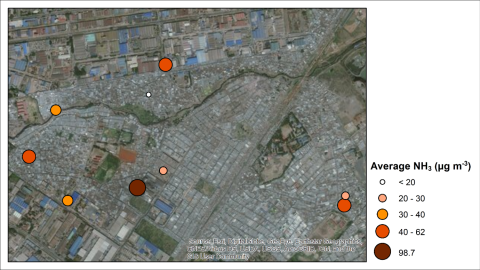 Average ammonia concentrations in an informal settlement (Mukuru) in Nairobi, Kenya
UKCEH led this joint project with the Stockholm Environment Institute Africa Centre (SEI) and Muungano (Kenyan branch of Slum Dwellers International). The project aimed to assess the applicability of NERC developed low cost monitoring methods (DELTA and ALPHAs) for air quality integrated with mobile particulate matter (PM) sensors to gain knowledge on personal exposure to air pollution within informal settlements in Nairobi, Kenya. One of the key outputs was spatial information on ammonia as an indicator of waste management within the informal settlement.
TUPUMUE (Let's Breathe) Newton Fund's UK-Kenya Joint Partnership on Non-Communicable Diseases, MRC and the NSF Kenya, 2019-2021
Image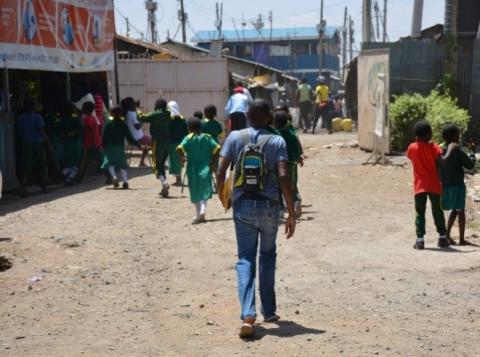 Contact: Marsailidh Twigg
This multi partner project aims to generate new scientific knowledge about the early life course origins, burden, determinants, and prognostic significance of non-communicable lung disease in Kenya by studying the lung health of children and adolescents from two very different communities (an informal settlement and a wealthier district) of Nairobi, Kenya. UKCEH is involved in determining the air pollution exposure of the children from both communities, as part of the study.
Citizen science in the informal settlement in Nairobi: wearing a personal exposure backpack to measure particulate matter (PM)
4. Water Quality of Urban Lakes and Rivers
Restoring Urban Lakes for Multiple Community Benefits
Contact: Laurence Carvalho
Image
Foams coming off Bellandur Lake, Bangalore, and sampling methane levels in the lake.
Lakes are highly valued by urban communities for multiple benefits.  However, they are highly vulnerable to pollution from wastewater and urban run-off, especially in rapidly growing cities where wastewater treatment infrastructure does not keep pace with the growth of the city. UKCEH are working on a case-study in Bangalore, India, to highlight the multiple benefits of restoring urban lakes. The largest in the city, Bellandur Lake, has become internationally notorious for catching fire and huge foams, becoming a hazard to communities.
Working with ATREE, we are supporting community-based initiatives to monitor water quality and ecological health, evaluate benefits and implement decentralised solutions to rejuvenate the lakes.
Water supply, water quality and infrastructure, India
Contact: Gwyn Rees
Image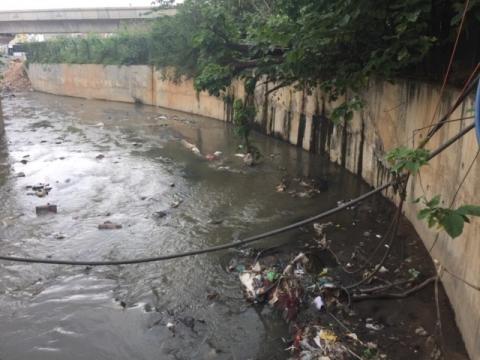 As part of a 3-year, £2M Newton-Bhabha Fund Project (2016-19), UKCEH, along with BGS, IISc and ATREE, investigated the effects of Bangalore's water supply and sewerage networks and its urban lakes on the local water balance and the availability of water resources in the Cauvery River basin. The project showed that leakage from pipes, sewers and drains is by far the largest contribution to groundwater recharge within the city limits but that the water is often of poor quality.
Urban storm water channel, Bangalore
 
Urbanisation effects on water quality and quantity from local to regional scale (POLLCURB)
Contact: Michael Hutchins
Image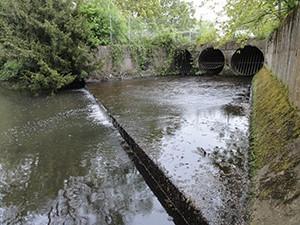 This UKCEH-led project on the River Thames focused on urbanisation, population growth and climate change impacts on water resources. Revealing that recent urban expansion is likely to give way to densification, research suggested that hydro-climatic drivers are likely to swamp any signals of a more-extreme flow regime resulting from urbanisation. Downstream of urban areas, short-lived water quality problems result from flushing of accumulated sediment with chronic impacts arising from wastewater overspills.
A UK urban river environment vulnerable to extreme flow and poor water quality
We identified long-term trends in river flows and water quality downstream of urban areas; detection and attribution of change was undertaken in this paper.  Continuous monitoring during extreme winter stormflow in medium-sized urbanising catchments revealed a river water quality response along an urban-rural gradient. Wastewater effluent was the key driver of downstream water quality and storms actually yield some benefits by flushing catchments and recharging aquifers, reported in this paper. This study showed how use of big data has allowed increasingly integrated assessments of urban water systems.
This paper shows how changes in water demand brought about by population growth have disproportionate effects at low flows. These may result in increased incidence of very low dissolved oxygen concentrations which damage the health of the ecosystem.
Image



Phosphate loads (x axis) and shading (y axis) are two key stressors we can control. In a drier/warmer future dissolved oxygen stress (coloured lines: days of DO below 6 mg/L) increases with high levels of urbanisation (right panel) compared with lower levels of urbanisation (left panel).
5. Impacts of Urbanisation
Urban expansion in the Nile Delta, impacts on agriculture and soil carbon
Contact: Laurence Jones
Image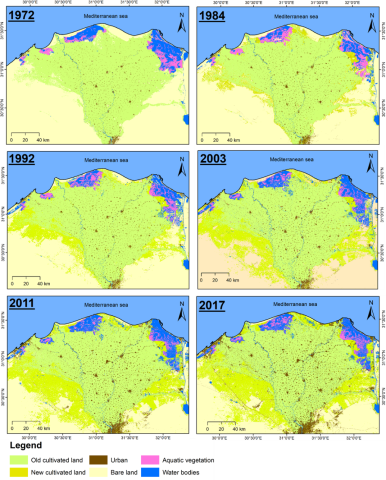 Urban expansion in the Nile Delta, 1972 – 2017.
This Newton-funded project looked at how urban sprawl over 45 years has affected agricultural area and soil carbon stock in Egypt's Nile Delta. Results are reported in this paper.
6. Multiple Benefits of Urban Greenspace & Bluespace
UKCEH is working in cities in the UK, Europe and China to develop Nature Based Solutions for urban challenges.
REGREEN project on Sustainable Urbanisation
Contact: Laurence Jones
EU H2020. China – UK – Denmark – France – Croatia.
Image

The REGREEN project brings together businesses, city authorities and researchers to inform and design Nature Based Solutions, focusing on key pressures in six European and Chinese cities, 'Urban Living Labs': Beijing, Shanghai, Ningbo, Paris, Aarhus, Velika Gorica.
UKCEH leads work on quantifying challenges in urban areas, on modelling urban ecosystem services, and on integrated assessment of Nature Based Solutions. UKCEH modelling focuses specifically on the benefits of urban green and blue space in reducing noise, air pollution, flood risk and improving water quality.
DESCIPHER project on Sponge Cities
Image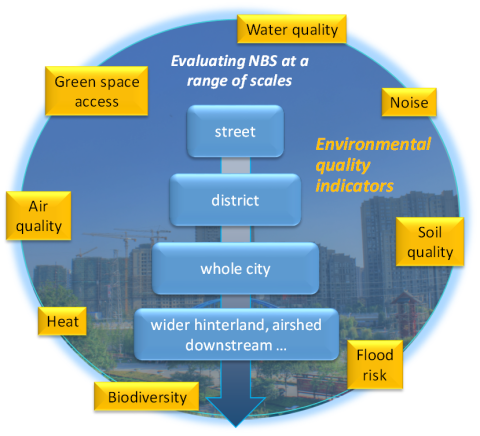 Contact: Michael Hutchins
Designing Sponge Cities for multiple benefits: integrating nature based solutions to create sustainable places - through Innovation, Policy, Health and Environmental Research), ESRC – NSFC funded, China – UK – Norway, 2019-2022.
The project will design Nature Based Solutions for liveable cities, extending the Sponge Cities concept to air pollution removal and other co-benefits of urban green and blue space. It will assess biophysical and societal benefits at multiple scales, including peri-urban. Outputs will include a decision-support tool.
Image
Modelled noise mitigation provided by urban trees in Birmingham, UK
City Explorer
Contact: David Fletcher
City Explorer, funded by the European Space Agency (ESA) and Future Earth, is an interactive planning support tool that will take into account spatial patterns in the socio-demographic demand for ecosystem services and will calculate ecosystem service metrics that reflect local context.
Image

The tool will map the expected benefits of multiple ecosystem services associated with urban green and blue space, and allow users to add in new greenspace into a city environment to compare the relative benefits of different locations. Vulnerability of city inhabitants, and importance of the service provided, can be used to weight the final output, allowing users to identify optimal spatial configurations, tailored to the specific requirements of the city or region being assessed. The tool is being developed as a 'digital demonstrator' of ESA products and Future Earth and UKCEH science, and will be demonstrated at the UNFCCC COP-26 meeting.
Making a case for Greenspace
Contact: Laurence Jones
Rwanda – Malawi – Colombia – Bangladesh – UK
In this multi-partner project, IRDF funded with Leicester University, we conducted a rapid assessment of urban green and blue space benefits in five cities across four continents: Kigali (Rwanda), Zomba (Malawi), Dhaka City (Bangladesh), Medellin (Colombia), Leicester (UK).
We first calculated the urban footprint and mapped green and blue space using satellite data. A range of UKCEH and other tools were used to calculate the following benefits: Access to Greenspace, air pollution removal, heat mitigation, flooding mitigation. Outputs include a 'mini-Prospectus' outlining the benefits for each city.
Image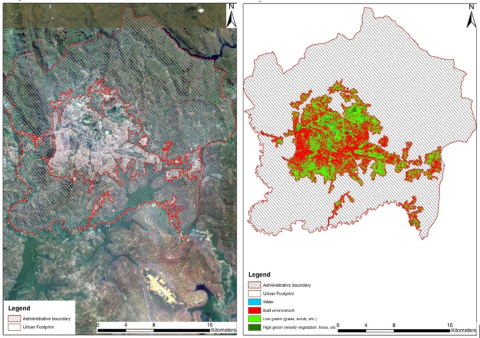 Mapping urban green and blue space in Kigali, Rwanda
7. Increasing the biodiversity value of urban sites and increase the biological recording that is carried out in urban areas
Developing a toolkit to enable positive ecological site management and resident well-being in Housing Association developments (2019-2020)
Contact: Jodey Peyton
Image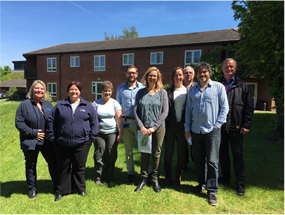 The project brings together business, local council, local wildlife trust, local environmental records centre and researchers to inform and design a toolkit that housing associations can use to select greening options for their site and improve the access of residents to local wildlife in their areas. This work will use peer-to-peer mentoring of estate care staff and residents to co-create improvements, whilst also linking to local greening initiatives in their local area. We are working with stakeholders, including the Association of Local Environmental Records Centres (ALERC), Thames Valley Environmental Records Centre (TVERC), Berkshire Buckinghamshire and Oxfordshire Wildlife Trust (BBOWT) and Bracknell Forest Council (BFC) to re-design the local approaches to land management and green infrastructure to link up local initiatives. This project will work closely with the national Housing Quality Network to disseminate the outputs of this project as the toolkit will have relevance nationally.
Link to the project blog here.