Scientific challenge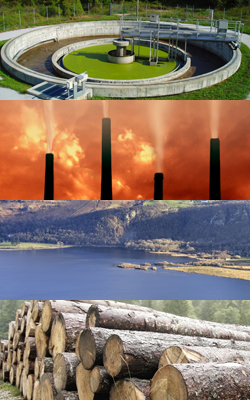 Freshwaters are vulnerable to a wide range of stressors including climate change, eutrophication, acidification, invasion of non-native species and land use change, such as deforestation. At the same time they provide essential provisioning, regulating, cultural and supporting ecosystem services including water supply, flood control, recreation and a major, but under-recognised, role in the global carbon cycle.
Because of their importance to society, most lakes are subject to numerous legally-binding national and European directives that set stringent targets for water quality and biodiversity. Meeting these targets requires a detailed understanding of lake processes which in turn requires measurements at an appropriate temporal scale. Traditional monitoring of, at best, weekly or fortnightly intervals is sufficient to record seasonal change but cannot resolve the processes driving many aspects of lake function.
This is because lake properties can be completely altered by short-term, meteorologically-driven physical disturbance such as a strong wind event that causes destratification in summer, and because the organisms that control lake function are often microbial with division times of the order of days.
Project overview
The UKLEON project will develop a national demonstration network of automatic lake monitoring stations that will exploit state-of-the-art sensor technology and provide linked, concurrent, high-temporal resolution data at a globally-unique density. The scientific and operational advantage of data at this unprecedented spatial and temporal scale will be illustrated in three science demonstration topics.
The three-year project, funded by the NERC Sensor Network Programme, is led by the Centre for Ecology & Hydrology (CEH) and involves a large range of partner organisations.
Freshwaters are vulnerable to a wide range of stressors including climate change, eutrophication, acidification, invasion of non-native species and land use change, such as deforestation.
Exploiting new sensor technology
In the last 15 years, developments in data-logger-, computer- and sensor-technology have allowed an increasing number of relevant lake variables to be measured automatically at high frequency. However, existing automated systems tend to:
concentrate on simple physical and chemical measurements
be insufficiently stable for long-deployment
suffer from problems of biofouling
are stand-alone systems, and
do not allow the full value of the data to be realised or widely disseminated.
The United Kingdom Lake Ecological Observatory Network (UKLEON) project will address these limitations by exploiting new, more stable sensor technology, using mechanical devices to minimise biofouling, in a network covering a range of lakes to produce high-quality data.
Project objectives
Technological
The primary technological objective is to establish the UK's first coordinated, high-intensity lake monitoring network. An information system will receive, process, quality control and disseminate limnological data delivered by an integrated instrumented network of automatic lake monitoring stations deploying state-of-the-art, self-cleaning sensors at 11 lakes across the UK.
This will be achieved by:
upgrading existing, independently operated, water quality monitoring stations (example pictured right) that are currently largely limited to meteorological and water temperature measurements, by adding a wide range of state-of-the-art sensors;

producing rigorous quality-control procedures to maximise data-quality;

linking the stations to form a coherent network;

providing data on the internet in a format that allows the results to be easily visualised and used, both by the academic community and for scientific outreach.
Scientific
Such infrastructure investment needs to reflect the scientific agenda for high quality and frequency measurement i.e. the need to 'hear every note to understand the full symphony'. We will demonstrate such a network supports this agenda through the following projects, termed demonstration science-topics:
Infrastructure
UKLEON sites
The locations of the 11 UKLEON sites are shown in the map below and their characteristics are listed in the following table:
Summary of lake characteristics ordered by lake area
| Lake | Area (km2) | Altitude (m) | Max. depth (m) | Trophic state a | Mixing status b | Residence time (day) | Current monitoring |
| --- | --- | --- | --- | --- | --- | --- | --- |
| Blelham Tarn | 0.1 | 41 | 14.5 | E | M | 50 | 2 weeks |
| Round Loch of Glenhead | 0.1 | 298 | 13.5 | O | P | 90 | infrequent |
| Llyn Conwy | 0.4 | 455 | 19.0 | O | P | 350 | monthly |
| Rostherne Mere | 0.5 | 27 | 30.0 | E | M | 600 | 3-26 weeks |
| Esthwaite Water | 1.0 | 65 | 15.5 | E | M | 100 | 2 weeks |
| Llyn Tegid | 4.1 | 160 | 43.0 | M | M | 150 | quarterly |
| Bassenthwaite | 5.3 | 69 | 19.0 | M | P | 30 | 2 weeks |
| Loch Leven | 13.3 | 107 | 25.5 | E | N/P | 620 | 2 weeks |
| Windermere | 14.8 | 39 | 64.0 | M | M | 280 | 2 weeks |
| Loch Lomond | 71.0 | 8 | 189.9 | O/M | M | 690 | monthly |
| Lough Erne | 110.0 | 46 | 63.0 | E/M | M/P | 180 | 2 weeks |
a Trophic state: O, oligotrophic; M, mesotrophic; E, eutrophic.
b Mixing status: M, monomictic, N not stratified, P, polymictic
Data viewer
Sensors
Meteorological sensors will include:
incoming radiation
photosynthetically active radiation
air temperature
relative humidity
wind speed
wind direction
Sensors in the lake will include sub-surface measurements of:
water temperature*
oxygen concentration*
conductivity*
pH*
CO2
photosynthetically active radiation
chlorophyll a (by fluorescence)*
cyanobacterial phycocyanin (by fluorescence)*
chain of temperature sensors over the depth profile
* Measured with a pair of Hydrolab DS5X sondes (pictured)
Most of the sensitive underwater sensors have mechanical or chemical cleaning systems to minimise the effect of biofouling.
Staff and project partners
The project is led by scientists from CEH's Lake Ecosystems group but involves colleagues from other parts of CEH as well as collaborating organisations:
CEH staff:
Stephen Maberly
Ian Jones
Alex Elliott
Mike Clarke
Heidrun Feuchtmayr
Don Monteith
Sue Rennie
Chris Evans
The project also involves the following co-investigators:
Glasgow University (Prof Susan Waldron)
Lancaster University (Prof Keith Beven)
Loughborough University (Dr David Ryves)
University College London (Prof Jon French)
UK Astronomy Technology Centre (Dr Andy Vick)
The following institutions are also involved in the project:
OTT Hydrometry Ltd and Lakeland Instrumentation are heavily involved in the technological aspects of the project.
Aberystwyth University, Agri-Food and Biosciences Institute and the Countryside Council for Wales operate some of the lake monitoring stations.
Department of Agriculture and Rural Development (Northern Ireland), Dundalk Institute of Technology, Environment Agency, Lake District National Park Authority, the Marine Institute, Natural England, Northern Ireland Environment Agency, Scottish Natural Heritage and Snowdonia National Park are partners on the project.