Air pollution is a global issue that regularly hits the front pages of our newspapers.
Image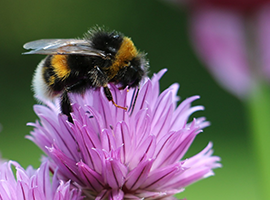 Despite tough legislation, pollution levels in many areas remain above the legal limits. For example, multiple locations in London breached annual limits for the traffic-produced gas nitrogen dioxide within the first week of January 2016. Exceeding these limits not only poses major risks for human health, but also leads to substantial EU imposed fines for the UK. Rural areas are also regularly exposed to pollution transported from cities and major roadways and are increasingly impacted by ozone pollution due to both a rise in the global background and regular weather-induced episodic ozone peaks often referred to as ozone bubbles. One such episode was triggered during the August 2003 heat wave and is thought to have resulted in 2139 deaths in England and Wales.
Concerns over public health have driven current efforts to reduce air pollution, but there is strong evidence to suggest that the health of plants and insects are also at risk. The honey bee for example, finds food by following the unique blend of volatile organic compounds (VOC) emitted by flowers. However, it was recently demonstrated in laboratory experiments that common air pollutants, such as diesel exhaust and ozone, can disrupt these floral odours, but we don't yet understand what consequences this might have in the real-world. Nonetheless, it is clear that any disruption to these signals may have wide ranging and as yet unquantified impacts on the important ecosystem services they provide, such as pollination (estimated to be $361bn globally and £691m in the UK) and pest-regulation ($417bn globally).