A new Special Issue of Hydrological Sciences Journal has been published, bringing together more than 30 articles covering the multiple disciplines within environmental flows of hydrology. Professor Mike Acreman of the Centre for Ecology & Hydrology (CEH) is the Guest Editor.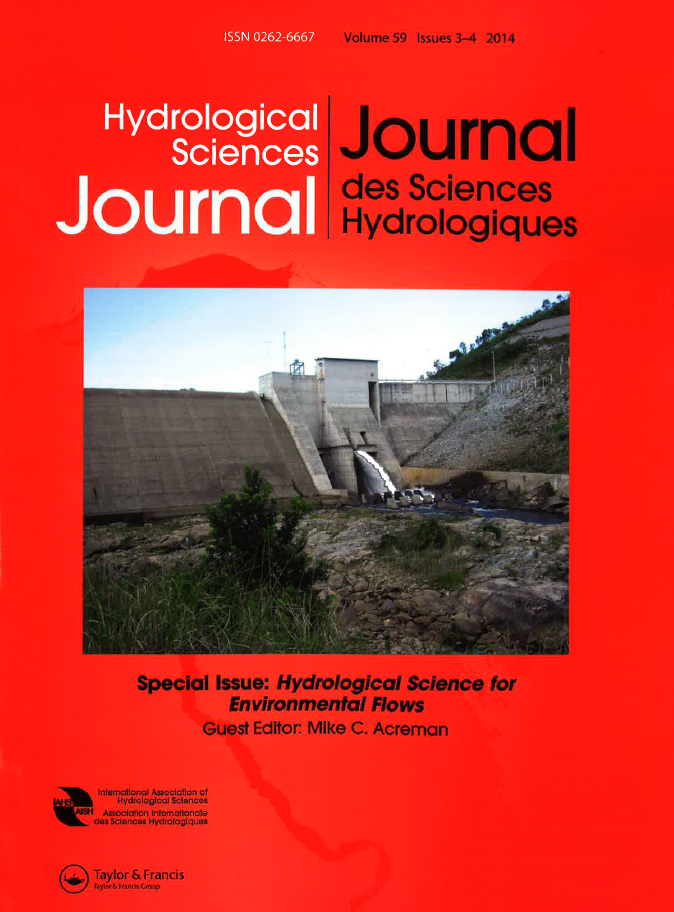 Environmental flows covers the quantity, timing and quality of water flows required to sustain freshwater and estuarine ecosystems and the benefits they provide to people. Environmental flows is thus at the heart of biodiversity conservation, ecosystem services and water management; some of greatest issues facing mankind.
CEH scientists have undertaken research on environmental flows for more than 20 years and led development of tools and methods in UK, including to implement the Water Framework Directive, and throughout the world, such as for the World Bank in Tanzania and China.
The HSJ Special Issue, entitled Hydrological Science for Environmental Flows, brings together 34 scientific articles that define the global state of affairs covering the multiple disciplines within environmental flows of hydrology, including water quality, groundwater, hydraulics, economics, climate change, dams and legal issues.
Prof Acreman said, "This collection of papers provides the scientific basis for achieving the right balance between direct use of water (for public supply, irrigation, industry and power generation) and the indirect benefits of the services that ecosystems provide to people".
Freshwater and estuarine ecosystems can provide economic security, for example, fish, medicines, timber; social security, protection from natural hazards, such as floods; and ethical security, such as upholding the rights of people and other species to water. These aquatic ecosystems clearly require freshwater to maintain their physico-chemical structure, species, communities, processes, functions and services that give them their specific character.
However, the flows of water through the hydrological cycle are increasingly being modified through impoundments such as dams and weirs, abstractions for agriculture and urban water supply, drainage return flows, maintenance of flows for navigation, and structures for flood control. These interventions have caused significant alteration of flow regimes mainly by reducing the total flow and affecting the variability and seasonality of flows. It is estimated that the flow regimes of more than 60% of the world's rivers have been altered, with rivers fragmented by dams.
In 2005, the Millennium Ecosystem Assessment showed that many ecosystems were being degraded or lost, with aquatic systems suffering particularly from the withdrawal of water for direct human needs for drinking, growing crops and supporting industry. The total population living in basins where modest environmental flows are already in conflict with current water use is more than 1.4 billion, and this number is growing. Integrated Water Resources Management seeks to find the best allocation of scarce water amongst different human uses.
Additional information
Hydrological Sciences Journal Special Issue: Hydrological Sciences for Environmental Flows
CEH scientists contributed to the following papers within the issue:
M.C. Acreman, I.C. Overton, J. King, P.J. Wood, I.G. Cowx, M.J. Dunbar, E. Kendy & W.J. Young. 2014. The changing role of ecohydrological science in guiding environmental flows. doi: 10.1080/02626667.2014.886019
T.P. Worrall, M.J. Dunbar, C.A. Extence, C.L.R. Laizé, W.A. Monk & P.J. Wood. 2014. The identification of hydrological indices for the characterization of macroinvertebrate community response to flow regime variability. doi: 10.1080/02626667.2013.825722
S. Duvail, A.B. Mwakalinga, A. Eijkelenburg, O. Hamerlynck, K. Kindinda & A. Majule. 2014. Jointly thinking the post-dam future: exchange of local and scientific knowledge on the lakes of the Lower Rufiji, Tanzania. doi: 10.1080/02626667.2013.827792
I.C. Overton, D.M. Smith, J. Dalton, S. Barchiesi, M.C. Acreman, J.C. Stromberg & J.M. Kirby. 2014. Implementing environmental flows in integrated water resources management and the ecosystem approach. doi: 10.1080/02626667.2014.897408
M. Piniewski, T. Okruszko & M.C. Acreman. 2014. Environmental water quantity projections under market-driven and sustainability-driven future scenarios in the Narew basin, Poland. doi: 10.1080/02626667.2014.888068
J.R. Thompson, C.L.R. Laizé, A.J. Green, M.C. Acreman & D.G. Kingston. 2013. Climate change uncertainty in environmental flows for the Mekong River. doi: 10.1080/02626667.2013.842074
Hamid Reza Tavassoli, Ahmad Tahershamsi & Mike Acreman. 2014. Classification of natural flow regimes in Iran to support environmental flow management. doi: 10.1080/02626667.2014.890285
Related CEH links
You can follow the latest developments in CEH research via Twitter and our RSS news feed.