On Tuesday 31 October 2006 10 staff from the Centre for Ecology & Hydrology (CEH) and the British Geological Survey (BGS) went to London for the premiere of Ali Hobbs's documentary The Long Walk*.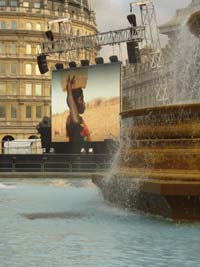 The film focuses on one woman's walk for water in Sudan's Nuba mountains. The film was premiered on a 30 foot screen in Trafalgar Square and is supported by the charity WaterAid.
The film was followed by a short speakers event featuring UK Secretary of State for International Development, Hilary Benn and Neil Runnalls who is based at the Centre for Ecology & Hydrology's research site in Wallingford. Neil described how Africa needs knowledge - water science of an international standard - which can be transferred to the continent so that Africans can successfully tackle current and future water issues. CEH and BGS both work on projects in Africa, involving African scientists, on subjects such as water data, climate change and environmental protection.
The Long Walk is an allegory for the lives of the 1.1 billion people who currently live without access to clean water, many of whom spend whole days walking miles to collect 20 litres of dirty water for their family's cooking, washing, drinking and cleaning needs.
Links