August was a mild month and many places in the UK experienced sunshine and showers. In northern England and northern Scotland, wetter conditions were interspersed with drier, more settled periods while drier conditions prevailed in the south and east of the UK, central Scotland and Northern Ireland though punctuated by unsettled conditions at times. Above average temperatures were registered in all regions.
Variable river flow responses reflected the distribution of rainfall throughout August, but almost all monthly mean flows were in the normal range or above.
The assessment is contained in the latest monthly hydrological summary for the UK, the most authoritative analysis of water resources status in the country. The monthly summaries are produced by the National Hydrological Monitoring Programme, operated by the Centre for Ecology & Hydrology in conjunction with the British Geological Survey.
Changes in soil moisture deficits in August reflected the spatial distribution of rainfall, increasing in eastern Scotland and the south and east of Britain while soils wetted up in northern England and western Scotland. Groundwater levels followed their usual seasonal recession although remained in the normal range or above. On the whole, reservoir stocks continued to fall (as is normal for the time of year) and despite some substantial decreases in some southern reservoirs, stocks for England and Wales remained above average.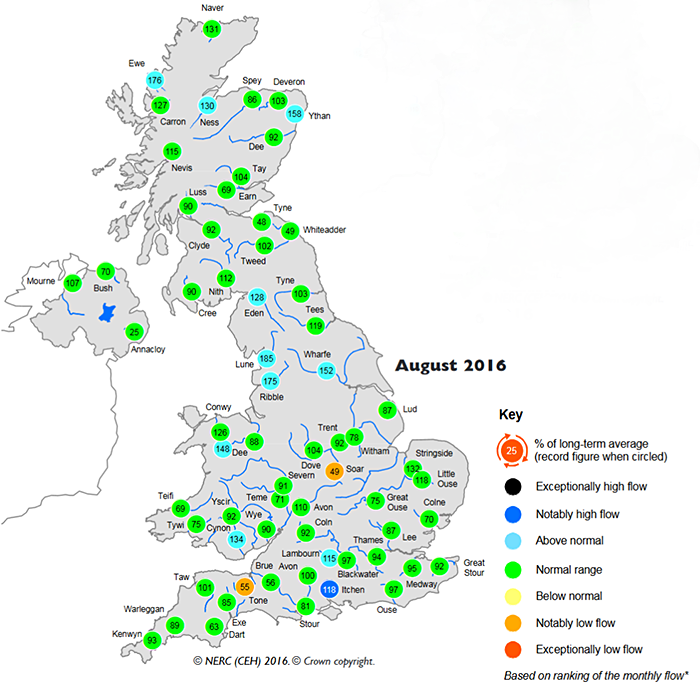 Above: August river flows in the UK. Green and orange in the normal range or below.
Summer (June-August) was wetter than average for much of the UK, particularly in the Western Isles, eastern Scotland and Cumbria and below average rainfall was generally limited to southern England. Summary author Lucy Barker said, "As autumn begins, the water resources outlook for the UK remains healthy, though the commencement of groundwater recharge is dependent on autumn rainfall."
A PDF of the full 12-page August 2016 summary can be downloaded here.
The monthly summary is a look back at hydrological events occurring in July 2016. Latest information on flood warnings is provided by the Environment Agency, Natural Resources Wales and Scottish Environment Protection Agency (flood warnings for Northern Ireland are not available).
The Centre for Ecology & Hydrology jointly operates the National Hydrological Monitoring Programme (for the UK) in conjunction with the British Geological Survey. NHMP scientists produce the UK Monthly Hydrological Summary which assesses rainfall, river flows, groundwater and reservoir levels. They also operate the UK's National River Flow archive.
The NHMP also has a remit to analyse major flood and drought events in the UK and analyse long-term trends in UK hydrological data. The UK Monthly Hydrological Summary is normally published on, or before, the tenth working day, of the following month. A Hydrological Outlook for the UK is also available, and is updated monthly. The latest Outlook can be viewed here.
Additional information
Read the full August 2016 Hydrological Summary for the UK
Details of the National Hydrological Monitoring Programme
Latest Hydrological Outlook for the UK