Overall, May was a warm month with above average temperatures recorded across the country. Although the UK rainfall was near-average, there were regional differences. Parts of south-east England and south Wales saw localised thundery showers throughout May and received above-average rainfall. In contrast, rainfall was below average in northern England, south-west England and eastern Scotland, notably so in some areas.
The assessment is contained in the latest monthly hydrological summary for the UK, the most authoritative analysis of water resources status in the country. The monthly summaries are produced by the National Hydrological Monitoring Programme, operated by the Centre for Ecology & Hydrology in conjunction with the British Geological Survey.
In response to the generally dry conditions in May, soil moisture deficits climbed and were near-average at month end, a contrast from the minimal deficits at the end of April. Reflecting the rainfall patterns in May, river flows were generally in the normal range, with below normal flows in south-western and northern England. Correspondingly, reservoir levels are moderately below average at some impoundments in northern and south-western England, following steep declines through May. However, overall reservoir stocks are near-average at the national scale.
Summary author Lucy Barker of the Centre for Ecology & Hydrology said, "Coupled with normal to above normal groundwater levels across the main aquifers, this implies that the water resource outlook for the summer remains favourable."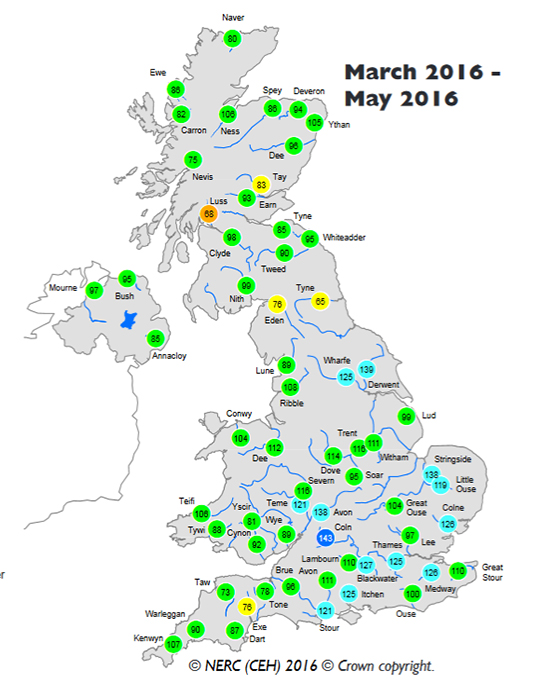 Above: March to May 2016 river flows in the UK. Green and blue indicate normal range or above.
A PDF of the full 12-page May 2016 summary can be downloaded here.
The monthly summary is a look back at hydrological events occurring in May 2016. Latest information on flood warnings is provided by the Environment Agency, Natural Resources Wales and Scottish Environment Protection Agency (flood warnings for Northern Ireland are not available).
The Centre for Ecology & Hydrology jointly operates the National Hydrological Monitoring Programme (for the UK) in conjunction with the British Geological Survey. NHMP scientists produce the UK Monthly Hydrological Summary which assesses rainfall, river flows, groundwater and reservoir levels. They also operate the UK's National River Flow archive.
The NHMP also has a remit to analyse major flood and drought events in the UK and analyse long-term trends in UK hydrological data. The UK Monthly Hydrological Summary is normally published on, or before, the tenth working day, of the following month. A Hydrological Outlook for the UK is also available, and is updated monthly. The latest Outlook can be viewed here.
Additional information
Read the full May 2016 Hydrological Summary for the UK
Details of the National Hydrological Monitoring Programme
Latest Hydrological Outlook for the UK