Centre for Ecology & Hydrology experts Terry Marsh, Mike Morecroft and Richard Harding gave a press conference this morning (February 23rd) at the Science Media Centre in London covering the science behind the current drought in South East England.
Image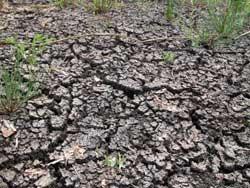 Mike, Terry and Richard covered a range of issues including possible impacts on the natural environment and whether there is link with climate change.
Our scientists issue monthly hydrological summaries for the UK to a range of interest groups. The summaries are produced as part of the National Hydrological Monitoring Programme run in collaboration with the British Geological Survey.
Scientists predict that to moderate the extent and magnitude of the drought over Southern England above average rainfall will be needed over the next 8-10 weeks.
Additional Information