A new and updated version of the Coded List of Freshwater Algae of Britain and Ireland has been published on the CEH website.
The list includes all reliable records up to November 2014 of freshwater and terrestrial cyanobacteria and photosynthetic algae in the British Isles with the exception of diatoms, for which there is only a partial list. Brackish water and intertidal cyanobacteria are also included, because a few species have been recorded from both freshwater and marine environments.
The list is the fifth update of one prepared originally for the then Water Data Unit of the (UK) Department of the Environment in 1978.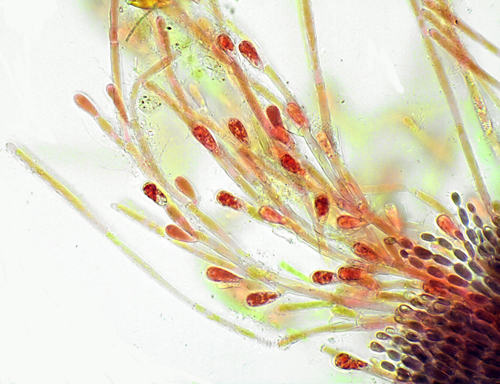 The term 'algae' is one of convenience for what are phylogenetically unrelated and mostly photosynthetic organisms that exhibit great variation in size and form. This new version of the list contains about 5500 species and subspecies in more than 580 genera. The diatoms have not been revised since the 2003 online version and the more than 2000 diatom species and subspecies listed is a considerable underestimate of the total now known from the British Isles.
The new list incorporates the many taxonomic and nomenclatural changes and new species records since the 2003 version. The second edition of The Freshwater Algal Flora of the British Isles gives the background to many of the changes between the versions and each taxonomic entry in the book is accompanied by its coded number.
The new version of the Coded list was compiled by Brian Whitton (School of Biological and Biomedical Sciences, Durham University) and David John (Life Sciences Department, Genomics and Microbiology Division, Natural History Museum, London).
Brian Whitton said, "The unique 8-digital codes are widely used by those recording algae in the British Isles and the worldwide interest in the coded list is reflected in the many hundreds of downloads from the website since publication on the web in 2003."
David John added, "The list is of special significance since it is the first authoritative and critical assessment of the freshwater algal flora of the British Isles to appear for over a decade. It is indispensable for anyone wanting to discover what species are known from our islands."
Earlier versions were also aided at different times by Christine Sinclair, J W Hargreaves, the late Nigel T H Holmes, Leslie R Johnson, Paul N G Boulton, Martyn G Kelly and Elizabeth Y Haworth.
Isabella Tindall of the Centre for Ecology & Hydrology prepared the list for publication on the CEH website.
Additional information
Coded List of Freshwater Algae of Britain and Ireland
The Freshwater Algal Flora of the British Isles (John, Whitton and Brook, 2011, published by Cambridge University Press)