The results of the biggest and most comprehensive survey of Britain's countryside and its natural resources have been published in a new report by the Countryside Survey partnership.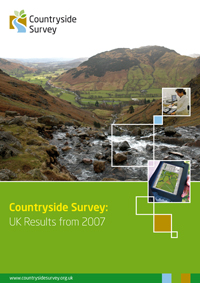 The results identify how the main features of the countryside, including fields, woods, ponds, heath and moorland areas, as well as linear features such as hedges and streams, have changed. They show how numbers of plant species have responded to changing land use, how habitat quality and vegetation condition has altered for key habitats and how Britain's soils are recovering from the effects of acid pollutants.
Countryside Survey 2007 is the culmination of several years of hard work carried out by the Centre for Ecology & Hydrology (CEH). CEH's involvement spanned initial training of field surveyors, through managing and undertaking the field survey itself, to more recent data processing, analysis and report writing.
Defra and the Natural Environment Research Council (NERC) commissioned the £10 million survey – the fifth since 1978 – on behalf of the partnership of governments, departments and agencies in the UK.
Dr Peter Carey from CEH and lead author of the Countryside Survey 2007 report, said the overriding message from the 2007 results is that previous intensive management of the countryside has relaxed over the last 30 years, particularly during the nine years since the last survey.
"The end result for biodiversity is a complex pattern of winners and losers," he continued. "Countryside Survey results demonstrate how the vegetation, soils and freshwaters of the British countryside change over time in response to the way we use the land and also other factors such as pollution and weather patterns."
A team of 80 specially trained scientists from CEH carried out the survey of 591 randomly selected one-kilometre square sites in England, Scotland and Wales during the summer of 2007. A complementary survey was carried out in Northern Ireland at the same time.
The scientists conducted an in-depth study of the habitats, soils and landscape features in each one-kilometre square, and recorded plants in a number of vegetation plots. For the first time they used specially developed electronic recording tools and web-enabled data systems to improve the efficiency of data collection. Many of the same sites have been monitored for each survey since 1978, but additional sites have been added in each survey to improve estimates of change in specific geographical areas.
The long-term data gathered should help answer questions about changes in the countryside, such as the number of species on arable land, increases and decreases in numbers of particular plant species, the length and condition of hedgerows, the condition of freshwater habitats and the effects of air pollution on vegetation and soils.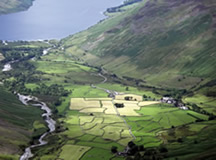 Environment Secretary Hilary Benn welcomed the new report. "The countryside lies at the heart of our prosperity, health and well-being, " he said. "We must ensure that the landscapes, wildlife and ecosystems that provide us with the essentials of life are not only looked after but are improved for future generations. The health of the countryside is increasingly affected by climate change, pollution and the demand for land, so it is vital that we improve our understanding of their impact.
"The UK Countryside Survey provides that understanding, the hard scientific evidence that we need."
Professor Alan Thorpe, Chief Executive of NERC, also emphasised the importance of the Survey. He stated, "The changing ecology of the UK countryside is of growing scientific and political importance, driven by concerns about land use changes, climate change, increased flood risks and sustainable energy resources. Countryside Survey has provided us with a remarkably detailed 30-year record of where environmental changes have occurred.
"This is vital scientific evidence for policymakers and all those with interests in sustainable land management."
Brief details of the headline results
The area of arable land decreased by 9% between 1998 and 2007, mostly through conversion to grassland. The number of plant species found in arable fields increased by 30%, often associated with set-aside. The area of agricultural grassland increased between 1998 and 2007 but there was no change in the number of plant species found in grassland.
Common plant species that became more abundant since 1998 were Stinging Nettle, Hawthorn and Bramble, which all benefit from reduced management. Climbing species and species of unmanaged land were more frequent, species of wetland edges and short turf less frequent. Four of the most common non-native species became more frequent between 1998 and 2007.
The total length of managed hedges decreased by 6% between 1998 and 2007, mostly through conversion to lines of trees and shrubs. About half (48%) of the managed hedges were classified as being in good structural condition in 2007.
The area of broadleaved woodland increased by 7% between 1998 and 2007. The number of plant species found in broadleaved woodlands did not change between 1998 and 2007, but a longer-term decrease of 7% was detected between 1990 and 2007.
The area of bracken decreased and acid grassland increased between 1998 and 2007. In England the area of heathland increased by 15% between 1998 and 2007. Heaths and bogs became more dominated by competitive grass species.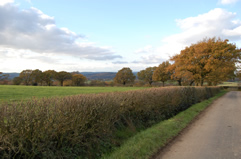 Headwater streams showed continued improvements in quality between 1998 and 2007. The number of ponds increased by 11% but their biological condition deteriorated between 1996 and 2007. Only 8% of ponds were found to be in good condition.
Soil (0-15cm) acidity decreased from 1978 to 2007 (GB) but further analyses are required to explore whether any of the variation in acidity can be interpreted as recovery from high levels of acid deposition. Changes in plant species due to nutrient enrichment, including effects of atmospheric pollution, have been seen in previous surveys but the signal is much less apparent between 1998 and 2007.
There was no overall change in the average carbon concentration in soil (0-15cm) between 1978 and 2007. This is important because soils hold a large amount of carbon which if released to the atmosphere as carbon dioxide could contribute to climate change.
Since 1978, Countryside Survey has detected no changes in plant distribution or abundance that can be clearly attributed to long-term climate change. Warmer and wetter conditions since 1978 seem to have favoured taller plant species and those preferring wetter conditions but no direct cause-and-effect relationship has yet been established.
Overall (when all vegetation sampling plots are analysed together) the species richness of plants growing in fields, woods, heaths and moors decreased by 8% between 1978 and 2007 although no decrease was recorded between 1998 and 2007.
More detailed results can be found in the headline summary and the main report, available at www.countrysidesurvey.org.uk (external link).
Media coverage
Nettles, hawthorn and brambles thriving, Countryside Survey reveals - The Times - 18 November 2008
'Thuggish' nettles and brambles make it into top ten most common countryside plants as wild flowers are driven out - Mail Online - 18 November 2008
Aggressive plants are forcing wild flowers out of hedgerows - Telegraph online - 18 November 2008
Additional information
Media enquiries about this report should be directed to the Centre for Ecology & Hydrology press office
The summary report Countryside Survey: UK Headline Messages from 2007 and the main report Countryside Survey : UK results from 2007 can be downloaded from www.countrysidesurvey.org.uk (external link).
The authors of the Headline Messages report are: P D Carey, S M Wallis, B E Emmett, L C Maskell, J Murphy, L R Norton. I C Simpson and S S Smart, all from the Centre for Ecology & Hydrology.
Unless otherwise stated these results relate to the UK or Great Britain. Countryside Survey reports for England, Scotland and Wales are expected to be published in Spring 2009. Results for Northern Ireland will be available later this year.
Countryside Survey is funded by a partnership of government-funded bodies led by the Natural Environment Research Council (NERC) and the Department for Environment, Food and Rural Affairs (Defra). Other partners include: Natural England, Welsh Assembly Government, Scottish Government, Northern Ireland Environment Agency, the Forestry Commission, Countryside Council for Wales and Scottish Natural Heritage.
Countryside Survey is conducted by NERC's Centre for Ecology & Hydrology.