The State of Nature 2016 UK report is launched by Sir David Attenborough and UK conservation and research organisations at the Royal Society in London this morning (Wednesday, September 14).
Following on from the first State of Nature report published in 2013 the report reveals that over half (56%) of UK species studied have declined since 1970, while more than one in ten (1,199 species) of the nearly 8000 species assessed in the UK are under threat of disappearing from our shores altogether. 
The State of Nature Partnership is led by RSPB and is made up of 53 organisations, comprising conservation charities, biological recording schemes and societies, and a small number of research organisations including the Centre for Ecology & Hydrology (CEH). The partnership has pooled expertise and knowledge to present the clearest picture to date of the status of the UK's native species across land and sea.
CEH has contributed two large datasets to the 2016 report: long term trends for 1,300 plants from the Countryside Survey which we've run since 1978, and annual indices of status for 1,600 species from the Biological Records Centre (BRC). CEH also contributed long term population trends in 60 butterfly species from the UK Butterfly Monitoring Scheme, which is run as a partnership with Butterfly Conservation. Together, these datasets make up around 75% of the 3,816 species on which the State of Nature 2016 analysis are based.
Image
Macroecologist Dr Nick Isaac from the Centre for Ecology & Hydrology is one of the five CEH authors on the UK report.  

He said, "Our work for State of Nature is part of a larger body of research using the UK's biological records. The trend information on 1,600 species we contributed to the 2016 State of Nature report via the Biological Records Centre is twice as many as we produced for the 2013 report. In recent years we have been working with recording schemes to improve the quantity and scope of new observations, principally through development of systems such as iRecord and associated mobile Apps for capturing and reviewing biological records."
Sir David Attenborough said, "The rallying call issued after the State of Nature report in 2013 has promoted exciting and innovative conservation projects. Landscapes are being restored, special places defended, struggling species being saved and brought back. But we need to build significantly on this progress if we are to provide a bright future for nature and for people. The future of nature is under threat and we must work together; Governments, conservationists, businesses and individuals, to help it. Millions of people in the UK care very passionately about nature and the environment and I believe that we can work together to turn around the fortunes of wildlife."
Dr Isaac added, "We're working now to make our analyses more suitable for rare species and under-recorded taxonomic groups, so that the next State of Nature report, hopefully out in 2019, will cover the status of a much broader set of species and is increasingly representative of UK biodiversity."
The report reveals that since 2002 more than half (53%) of UK species studied have declined and there is little evidence to suggest that the rate of loss is slowing down. 
In order to reduce the impact we are having on our wildlife, and to help struggling species, we needed to understand what's causing these declines. Using evidence from the last 50 years, the report states that significant and ongoing changes in agricultural practices are having the single biggest impact on nature.
The report highlights many inspiring examples of conservation action that is helping to turn the tide. From pioneering science that has revealed for the first time the reasons why nature is changing in the UK, to conservation work – such as the reintroductions of the pine marten and large blue butterfly (which was led by CEH scientists), and the restoration of areas of our uplands, meadows and coastal habitats. 
Image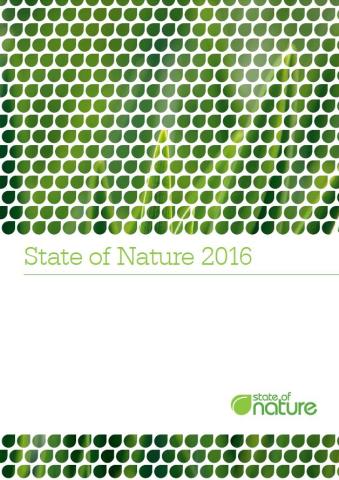 Mark Eaton from the RSPB, lead author on the report, said, "Never before have we known this much about the state of UK nature and the threats it is facing. Since the 2013, the partnership and many landowners have used this knowledge to underpin some amazing scientific and conservation work. But more is needed to put nature back where it belongs – we must continue to work to help restore our land and sea for wildlife. Of course, this report wouldn't have been possible without the army of dedicated volunteers who brave all conditions to survey the UK's wildlife. Knowledge is the most essential tool that a conservationist can have, and without their efforts, our knowledge would be significantly poorer."
Separate events celebrating reports for Scotland, Wales and Northern Ireland will be held in Edinburgh, Cardiff and Belfast over the next week. 
CEH State of Nature authors Dr Nick Isaac and Charlie Outhwaite have written a blogpost explaining the data and species trend analysis that CEH and BRC contributed to the State of Nature 2016 report. Read it here.
Additional information
A full copy of the State of Nature 2016 report can be viewed on the RSPB website 
Five CEH scientists co-authored the State of Nature 2016 UK report. They are Dr Nick Isaac, Charlie Outhwaite, Dr Tom August, Dr David Roy and Dr Gary Powney.
The State of Nature 2016 UK partnership includes:
A Focus on Nature, A Rocha UK, Association of Local Environmental Records Centres, Amphibian & Reptile Conservation, Bat Conservation Trust, Biological Records Centre, Botanical Society of Britain & Ireland, British Bryological Society, British Dragonfly Society, British Lichen Society, British Pteridological Society, British Trust for Ornithology, Buglife, Bumblebee Conservation Trust, Butterfly Conservation, Centre for Ecology & Hydrology, Chartered Institute for Ecology and Environmental Management, Conchological Society of Great Britain and Ireland, Durrell Wildlife Conservation Trust, Earthwatch Europe, Freshwater Habitats Trusts, Friends of the Earth, Froglife, Fungus Conservation Trust, Guernsey Government, iSpotnature (The Open University), States of Jersey Department of the Environment, Mammal Society, Manx Birdlife, Marine Biological Association, Marine Conservation Society, MARINElife, Marine Ecosystem Research Programme, National Forum for Biological Recording, National Trust, National Biodiversity Network, Natural History Museum, Orca, People's Trust for Endangered Species, Plantlife, PREDICTS, Rothamsted Research, RSPB, Sir Alister Hardy Foundation for Ocean Science, Shark Trust, Sheffield University, Vincent Wildlife Trust, Whale and Dolphin Conservation, The Wildlife Trusts, Woodland Trust, World Wildlife Fund, Wildfowl & Wetlands Trust, Zoological Society of London.