Two UK research institutes and two Chinese reseach institutes have announced new Centre-Centre research collaborations designed to tackle some of the global challenges of food, water and energy security. The collaborations involve the UK's Centre for Ecology & Hydrology, part of NERC, Scotland's James Hutton Institute, the Chinese Academy of Science (CAS) and the China Agricultural University (CAU).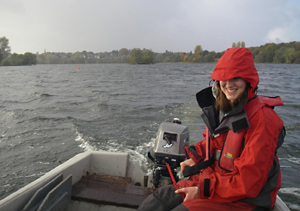 This unique Centre-Centre collaboration, built on the scientific excellence of the partner institutions, will provide knowledge and understanding to support long term economic growth hand in hand with environmental protection.
Pictures taken in China at the signing of the collaboration agreements between the four institutes can be found here.
The Centre for Ecology & Hydrology and the James Hutton Institute will collaborate with CAS and its Research Centre for Eco-Environmental Sciences (RCEES) to initially target research on the remediation and recovery of polluted environments, water and food security and watershed management, soil contamination, and the development of eco-toxicology tools for environmental monitoring.
The collaboration with CAU's Centre for Resources, Environment and Food Security (CREFS) will focus on food and water security, in particular, the damaging impact of air pollution on crop productivity, and promoting soil health and function.
Professor Mark Bailey, Director of the Centre for Ecology & Hydrology, "This signing is a significant development in establishing a critical mass to deliver science excellence in environmental research between China and the UK."
Mr Li Zhaohu, Vice President of CAU said, "We look forward to strengthening our partnership which will see scientists and students working between the two countries."
Professor Bob Ferrier of the James Hutton Institute commented that "this unique Centre-Centre collaboration will provide a long-term platform for science between UK and China which we aim to strengthen further in the coming years."
Professor Jiang Guiblin, Director General of RCEES pointed out that "this partnership is built on our shared understanding, and I welcome the opportunity for us to work together".
Professor Alan Jenkins, Director of the Water Research Programme at CEH highlighted the "importance of the collaboration in addressing the pressing challenges of food and water security."
The Centre-Centre collaboration will promote bilateral exchange, joint studentship opportunities and the development of collaborative research programmes. The Centre-Centre approach will strengthen the growing scientific relationship between UK and China.
Additional information
The James Hutton Institute (external link)
Flickr link to photographs taken in China at the signing of the collaboration agreements between the four institutes.
You can follow the latest developments in CEH research via Twitter and our RSS news feed.