A notably dry June has added significantly to accumulated rainfall deficiencies across much of the UK. Provisionally, the country has registered its second lowest Jan-June rainfall in a series from 1914 with particularly exceptional deficiencies characterising much of northern England and western Scotland. This analysis is contained within the latest monthly hydrological summary (for June) produced by the National Hydrological Monitoring Programme, operated by the Centre for Ecology & Hydrology in conjunction with the British Geological Survey.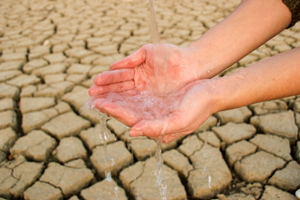 The June Hydrological summary states that last month also saw the second largest June decline in overall reservoir stocks for England & Wales since 1989 and, entering July, stocks in a group of index reservoirs in north west England were only marginally above half full (heralding the introduction of a hosepipe ban affecting 6.5 million consumers). Stocks were also depressed in western Scotland (Loch Katrine especially) and in parts of Wales.
The recent intensification in drought conditions is confirmed by the estimated June outflows (river flows) from Great Britain: the lowest in a 50 year series. Flows in many rivers draining impermeable catchments are exceptionally low, causing significant environmental and ecological stress, for example loss of habitat as the river network contracts, decreasing dilution available for effluents, and low oxygen levels (high water temperatures being an exacerbating factor) necessitating fish rescues. However, groundwater levels in most major aquifers (which outcrop extensively in eastern, central and southern England) generally remain within the normal range. As a result, flows in many spring-fed rivers are typical of the early summer. With extremely dry soils across much of the country (which will absorb most of the summer rainfall) this drought stress is likely to increase - underlining the need to moderate water usage in the drought-affected regions.
The Centre for Ecology & Hydrology jointly operates the National Hydrological Monitoring Programme (NHMP) in conjunction with the British Geological Survey. NHMP scientists produce the UK Monthly Hydrological Summary which assesses rainfall, river flows, groundwater and reservoir levels. They also operate the National River Flow archive. The NHMP has a remit to analyse major flood and drought events in the UK and analyse long term trends in UK hydrological data. The Programme was set up in 1988 and relies on the active co-operation of measuring authorities throughout the UK.
Additional information
Latest Monthly Hydrological Summary for the UK - June 2010 (PDF)
Hydrological Summary Archive - dating back to March 1997
National Hydrological Monitoring Programme - access reports issued as part of the NHMP
Datasets hosted by CEH: National River Flow Archive, National Water Archive and others
Media enquiries on the current flooding situation should be directed to the CEH Press Office. Our scientists can provide explanation and analysis of historic hydrological patterns, possible future scenarios under climate change and scientific understanding of the current situation. We are not able to comment on immediate operational issues.
If you wish to reproduce figures from the Monthly Hydrological Summary please respect the copyright credits contained within the document.