The Centre for Ecology & Hydrology is now planning the third version of the definitive UK Land Cover Map to be released in 2007 and need help from users of the 1990 and 2000 versions, and others using similar data, to help us define the best specification for the new Map.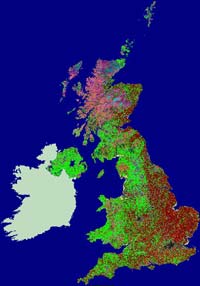 An online questionnaire is now available here [now withdrawn]. It should take no more than 15 minutes of your time to complete.
The names of all those that reply will be put into a draw (closing date 15th May) for a £25 book token.
The first Land Cover Map of Great Britain (LCMGB) was developed in 1990 as part of the long-running series of UK Countryside Surveys. LCMGB provided data, derived from satellite images, allocated to 25 land cover types on a 25m grid.
Land Cover Map 2000 (LCM2000) updated and upgraded the original map, and included Northern Ireland in the dataset. LCM2000 used similar input data to LCMGB, but subdivided the landscape into land parcels which represented real world objects such as field, woods and urban areas. The land cover classes provided in the dataset corresponded to 20 widespread Broad Habitats of the UK Biodiversity Action Plan.
If you have any queries about the Land Cover Map please contact the Land Cover Map team who are based at our Monks Wood site.
Additional Information
The Land Cover Map Team query email: lcm2007@ceh.ac.uk