CEH scientists have made major contributions to two new reports on ozone pollution which are published today.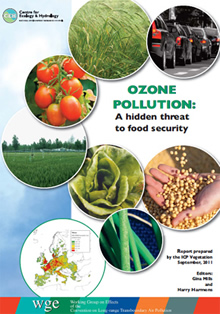 One report looks at the impacts of ozone pollution on food security in the UK, focussing on events in 2006 and 2008. The second report examines ozone pollution and food security issues at a Europe wide level.
The work involved scientists from the Centre for Ecology & Hydrology, AEA, the Stockholm Environment Institute and Lancaster University in the UK, and partner organisations in Spain, Germany, Sweden, Norway and Belgium.
The reports are published on the International Cooperative Programme on Effects of Air Pollution on Natural Vegetation and Crops (ICP Vegetation) website.
The ICP Vegetation was established in 1987 under the United Nation Economic Commission for Europe (UNECE) Convention on Long-Range Transboundary Air Pollution (LRTAP). It is an international research programme investigating the impacts of air pollutants on crops and (semi-) natural vegetation and reports to the Working Group on Effects (WGE). The programme focuses on the following air pollution problems: impacts of ozone pollution on vegetation and the atmospheric deposition of heavy metals and nitrogen to vegetation.
In addition, the ICP Vegetation is taking into consideration impacts of pollutant mixtures (e.g. ozone and nitrogen), consequences for biodiversity and the modifying influence of climate change on the impacts of air pollutants on vegetation. The results of studies conducted by the ICP Vegetation are used in assessments of the current, and predictions of the future, state of the environment. Thirty five Parties to the LRTAP Convention participate in the programme.
The ICP Vegetation programme is led by the UK, and has its Programme Coordination Centre at the Centre for Ecology and Hydrology's site in Bangor, North Wales. ICP Vegetation receives funding from the Department for Environment Food and Rural Affairs (Defra), the Natural Environment Research Council and the UN.
Additional information
ICP Vegetation programme website
Report 1: Ozone Pollution: A hidden threat to food security [PDF, 3.76mb]
Ozone and food security-ICP Vegetation report 2011- published.pdf
Report 2: Impacts of Ozone Pollution on Food Security for the UK: a Case Study for two contrasting years, 2006 and 2008 [PDF, 4.49mb]
Ozone and crops in the UK - published - November 2011.pdf
You can follow the latest developments in CEH research via Twitter and our RSS news feed.