Congratulations to the Biological Records Centre (BRC) at CEH, and in particular to scientists Dr Tom Oliver, Dr Chris Preston and Dr Helen Roy, who have each recently picked up prestigious awards for their work. Rounding off the success, the BRC stand at last week's Gardeners' World Live Show at the NEC in Birmingham received a Highly Commended award from the show organisers.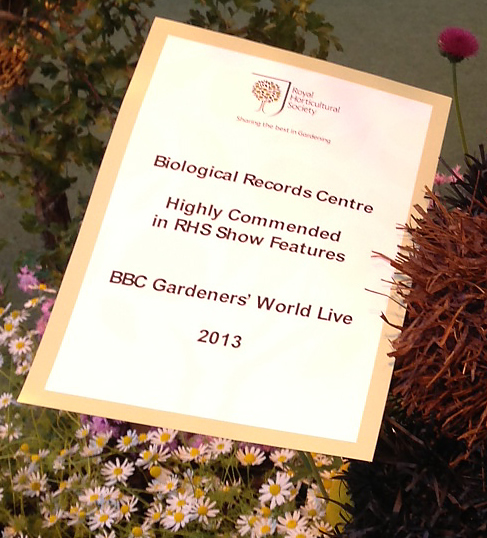 Dr Tom Oliver, an Ecological Modeller at CEH, has won the Marsh Award for Early Career Entomologist, recognising an early career contribution that is judged to be outstanding or exemplary. The award is given by the Royal Entomological Society in conjunction with the Marsh Christian Trust. Tom will receive his award at the Royal Entomological Society Annual Conference dinner in September.

Dr Chris Preston, a Botanist with the Biological Records Centre for more than 30 years, was recently the recipient of the John Thackray Medal from the Society for the History of Natural History. Chris and co-author Philip Oswald were presented with the award at the Society's annual conference for their work on translating and editing John Ray's Cambridge Catalogue (1660), the landmark 17th century botanical catalogue and natural history work originally published in Latin.

Ecological entomologist Dr Helen Roy is the latest recipient of the Zoological Society of London's Silver Medal. The medal, first awarded in 1847, recognises contributions to the understanding and appreciation of zoology, including such activities as public education in natural history, and wildlife conservation. Previous recipients include Sir David Attenborough, Richard Dawkins and Dame Jane Goodall.

Helen and colleagues Dr Michael Pocock, Val Woods, Lucy Hulmes, Sarah Hulmes, Jim Bacon, Heather Lowther and Kath Turvey were heavily involved in organising the Biological Records Centre stand at this year's BBC Gardeners' World Live exhibition. For the third year running, the stand was recognised with a Highly Commended certificate.
Director of CEH Prof Mark Bailey said, "I'd like to add my personal congratulations to the recipients of the four awards. They are a well deserved recognition of the contribution our scientists make in advancing ecological research whilst working closely with the wider society. CEH's Biological Record Centre plays a major role in promoting the importance of biological recording, a critical tool for protecting and assessing the status of our biodiversity."
Additional information
Enthusiasm, buzz and wildlife stories from across the country - Blog post from Gardeners' World Live
The Marsh Award for Early Career Entomologist
Previous recipients of ZSL Silver Medal [PDF]
Silver medal winners complete list.pdf
You can follow the latest developments in CEH research via Twitter and our RSS news feed.