March was an exceptionally mild month and the driest for the UK since 1953. Most of the country reported less than half the average rainfall, further intensifying the drought and extending its spatial range. Accumulated rainfall deficiencies now extend over 24-27 months across the English Lowlands and are of a magnitude expected, on average, only around once every 20-30 years.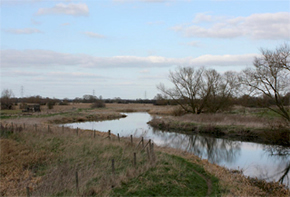 The above analysis is contained within the latest monthly hydrological summary (for March 2012) produced by the National Hydrological Monitoring Programme, operated by the Centre for Ecology & Hydrology (CEH) in conjunction with the British Geological Survey.
With the rainfall deficiencies disproportionately concentrated in the winter/spring periods the drought's severity has been magnified. Its range of impacts embraces agriculture, water resources and the environment; there is a heightened risk of heath and moorland fires and particular concern for the ecological health of groundwater-fed streams and wetlands – and the wildlife they sustain.
Terry Marsh, from the Centre for Ecology & Hydrology, said, "The early April rainfall was very welcome for farmers and growers but with record late-March soil moisture deficits and accelerating evaporation losses, a continuing decline in runoff rates and groundwater levels may be expected in the drought-affected regions. Model analyses indicate that even above average rainfall is unlikely to see a return to normal river flows before the autumn and the recovery of groundwater stocks will be heavily dependent on rainfall through the 2012/13 winter."
The Centre for Ecology & Hydrology jointly operates the National Hydrological Monitoring Programme (NHMP) in conjunction with the British Geological Survey. NHMP scientists produce the UK Monthly Hydrological Summary which assesses rainfall, river flows, groundwater and reservoir levels. They also operate the National River Flow archive. The NHMP has a remit to analyse major flood and drought events in the UK and analyse long term trends in UK hydrological data. The Programme was set up in 1988 and relies on the active co-operation of measuring authorities throughout the UK.
Additional information
Read the full March 2012 Hydrological Summary for the UK [PDF, 1.78MB]
Hydrological summary archive - dating back to March 1997
Details of the National Hydrological Monitoring Programme
Datasets hosted by CEH: National River Flow Archive, National Water Archive and others
Dealing with 'drought' questions - a blog post from CEH Science News
Media enquiries related to the Hydrological Summaries should be directed to the CEH Press Office. Our scientists can provide explanation and analysis of historic hydrological patterns, possible future scenarios under climate change and scientific understanding of the current situation. We are not able to comment on immediate operational issues.
If you wish to reproduce figures from the Monthly Hydrological Summary please respect the copyright credits contained within the document.
You can follow the latest developments in CEH research via Twitter and our RSS news feed.