The Wider Countryside Butterfly Survey (WCBS) has revealed that a number of British butterflies suffered a disappointing 2011 compared to 2010. Although the record-breaking warm spring of 2011 had helped some rarer butterflies and early spring specialists, as reported earlier this year, recorders on the latest study saw 22% fewer butterflies on average during last summer.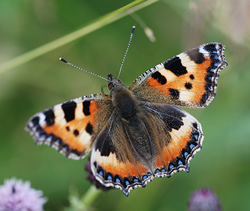 One reason for the decline is that the warm spring gave way to a record-breaking cold summer, but the ongoing deterioration of suitable butterfly habitat across the countryside is also being seen as a cause for the fall in numbers.
Garden favourite the Small Tortoiseshell was one of the species badly affected, with less than one seen per kilometre walked on average in the countryside. Such low numbers are a cause for concern given that less than a decade ago the butterfly was likely to be seen in almost every garden and flowery place through the summer months.
The drop in Small Tortoiseshell sightings from the WCBS mirrors an alarming and ongoing decline for this once ubiquitous species. The Common Blue and the Wall were other species to struggle in 2011. The Common Blue was present in only one-third of squares compared to over half in 2010.
The WCBS involves counting butterflies in more than 700 randomly generated 1km-squares across the UK countryside. The scheme helps assess the health of butterfly populations across the wider countryside, rather than specially managed hotspots such as nature reserves.
Last year, recorders saw on average 47 butterflies from seven species per survey made over July and August. This represents a 22% reduction in numbers from 2010 and a 41% reduction from 2009, when recorders saw an average 80 butterflies and eight species per survey.
WCBS coordinator Dr Zoe Randle said, "The new survey is proving vital in getting better information on how our common butterflies are faring across the countryside as a whole."
The WCBS is run by Butterfly Conservation, the British Trust for Ornithology and the Centre for Ecology & Hydrology as part of the UK Butterfly Monitoring Scheme (UKBMS). The UKBMS is funded by a multi-agency consortium including the Countryside Council for Wales, Defra, the Joint Nature Conservation Committee, Forestry Commission, Natural England, the Natural Environment Research Council and Scottish Natural Heritage.
Additional information
Butterfly Conservation issued a press release for this story
UK Butterfly Monitoring Scheme
Wider Butterfly Monitoring Scheme
Related CEH links
CEH News Blog: Butterflies, biodiversity indicators and long-term change
CEH's Biodiversity Science programme
Record-breaking 2011 Spring helped some of the UK's rarer butterflies - 19 April 2012
You can follow the latest developments in CEH research via Twitter and our RSS news feed.