The UK registered its wettest September since 2000 last month, as autumnal weather patterns brought significant pulses of rainfall to most areas. Accordingly, river flows increased smartly, spate conditions and flood alerts were relatively common, and inflows to most upland reservoirs were substantial.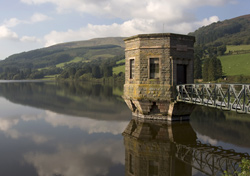 While there were notable rainfall events in some western and northern areas, such as Northern Ireland which had its second wettest September since 1981, rainfall totals were below average across much of central and southern England, leading to continuing soil moisture deficits, groundwater levels recessions, and reservoir stocks continuing their seasonal decline in these areas.
This analysis is contained within the latest monthly hydrological summary (for September 2010) produced by the National Hydrological Monitoring Programme, operated by the Centre for Ecology & Hydrology in conjunction with the British Geological Survey.
The summary states, "The wetness of the late summer and early autumn has substantially moderated medium term regional rainfall deficiencies and in some, mostly western, areas the focus of hydrological stress has shifted from drought to flood risk. However, in much of the English Lowlands, above average late autumn rainfall would be particularly welcome to initiate and maintain groundwater level recoveries."
The Centre for Ecology & Hydrology jointly operates the National Hydrological Monitoring Programme (NHMP) in conjunction with the British Geological Survey. NHMP scientists produce the UK Monthly Hydrological Summary which assesses rainfall, river flows, groundwater and reservoir levels. They also operate the National River Flow archive. The NHMP has a remit to analyse major flood and drought events in the UK and analyse long term trends in UK hydrological data. The Programme was set up in 1988 and relies on the active co-operation of measuring authorities throughout the UK.
Related CEH links
Read the full September 2010 hydrological summary for the UK [PDF 2.29MB]
Datasets hosted by CEH: National River Flow Archive, National Water Archive and others
Media enquiries related to the Hydrological Summaries should be directed to the CEH Press Office. Our scientists can provide explanation and analysis of historic hydrological patterns, possible future scenarios under climate change and scientific understanding of the current situation. We are not able to comment on immediate operational issues.
If you wish to reproduce figures from the Monthly Hydrological Summary please respect the copyright credits contained within the document.